Doing your makeup has become an art that is admired and well sought after. Playing with different colors, angles, and products, you can transform into a completely different person. These makeup artists have that special talent of makeup artistry and have given themselves insane makeovers.
The Natural Look
Doing your makeup doesn't have to mean that you look like a completely different person. This woman decided to play up her natural features like her eyes and lips.
Casually Glamorous
This everyday look is great if you want to look put together and glamorous while still being casual. She uses foundation to cover up her skin's redness and dramatizes her eyebrows to really make them pop.
Intense Eyes
There are two distinct features his woman decided to play up in her makeup transformation: her eyes and her lips. We love the contrasting blue and yellow eye shadows. She also did a great job on the contour and highlight.
Bare Minimum
A subtle look is all you need sometimes. The most dramatic thing about this girl's look is her winged eyeliner. Other than that, she looks super natural.
Fresh Faced
You can't even tell that she is wearing makeup unless you take a really close look. She simply accentuates her eyes with light-colored eye shadow and glosses her lips.
Pop of Color
With just a pop of color, this girl pulls her look together completely. With the winged eyeliner and rosy color on her lips, she is ready for both a day at work and a night out.
Mom Makeover
You're never too old to have a makeover. This mother threw on some foundation, lipstick, and shaped up her eyebrows for this natural glamorous look.
Fresh Spring Look
This look is very fresh faced and perfect for the springtime. The most noticeable difference is the skin color. With some help of foundation and blush, her skin looks like porcelain.
Learning Curve
This girl decided to take some suggestions from makeup artists and compare how she used to do her makeup to now. She looks much more natural and fresh with a lighter eye and thinner eyebrows.
Glowing
The only word to describe this look is glowing. With some shaping and filling in of the eyebrows, a natural lip color, and winged eyeliner, this girl is ready to take on the town.
Lashes are Everything
This makeup transformation is truly incredible. With a fresh coat of foundation, mascara, lipstick, and shaped eyebrows, this woman looks almost completely different.
Incredible Transformation
It's hard to believe that this is the same girl! Her makeup skills completely transformed the way she looks. She plays up her eyes a lot with false lashes and a light smoky eye. Her eyebrows also add huge definition to her face.
Eye Transformation
Sometimes you just need to enhance one feature to completely change your look. This girl decided to play up her eyes, which gives her a dramatic new look.
Wedding Makeover
This girl decided to share the transformation her makeup made on her wedding day. She has a clean, elegant look that isn't too overpowering. Her skin looks so even and smooth and her eyes are absolutely stunning.
The Perfect Palette
This girl knew exactly what features to focus on when doing her makeup. She decided to play up her eyes with a neutral colored eye shadow palette and define her eyebrows to make the look more dramatic.
Completely Changed
While you can still kind of tell it's the same girl due to the shape of her face, it's hard to believe that makeup could make such an incredible transformation. With the help of shaping her eyebrows and some intense eye shadow, she is ready to take on the world.
Reddit Makeover
This woman didn't know the first thing about doing makeup. So, she took to Reddit in search of answers and advice. Thanks to helpful users, she learned how to do her makeup, and quite successfully at that.
Explosive Makeover
Red lipstick is for every occasion. With subtle eye makeup, this girl's red lips pull the look together and make her look absolutely explosive.
Illuminated
The highlighter in this makeover is unlike any other. Her face is perfectly contoured and her eye makeup is pristine.
The Magic of Makeup
This transformation just proves how magical makeup is when it's done right. This girl creates a whole new look with contouring and intense eye makeup. She almost looks a little like Adele.
Brigitte Bardot Look
With help from thick winged eyeliner, pink lipstick, and some foundation, this mom achieved a Brigitte Bardot-inspired look. She looks fresh, retro, and ready to take on anything that may come her way.
Simple Steps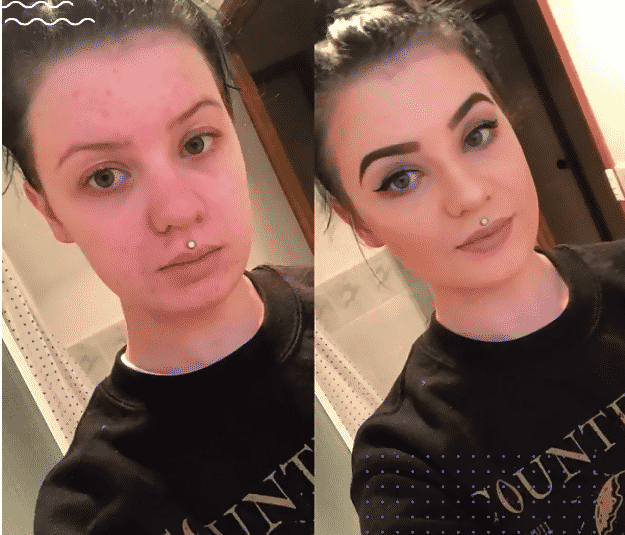 Sometimes it's the simple things that will change an entire look. With just a soft layer of foundation, eyebrow shaping, and winged eyeliner, this girl looks completely different.
Eyelash Extensions
Sometimes you need a little extra help to achieve a look. This girl uses fake eyelashes to make her look more dramatic and beautiful. Mascara just doesn't get you results like this.
All in the Lips
There wasn't too much that went into this transformation. Some light foundation and highlighting, eyebrow filling, winged liner, and a rosy lip color helped this girl achieve a fresh-faced look.
Dramatic Difference
This dramatic transformation is incredible. She decided to focus a lot on her eyes and make them super dramatic with thick eyeliner on both the top and bottom. Her cute purple hair definitely helps with the look too.
Golden Glow
Gold is definitely this woman's best color. It complements her skin tone and the dark color of her eyes so well. It also isn't too intense so she can wear it from day into night.
Ready for Adventure
Every Disney Channel lover's favorite crime fighting chick, Kim Possible, inspired this look. There doesn't seem to be too much makeup on her face, which is probably best when fighting crime and swinging from high surfaces.
Flirty and Fabulous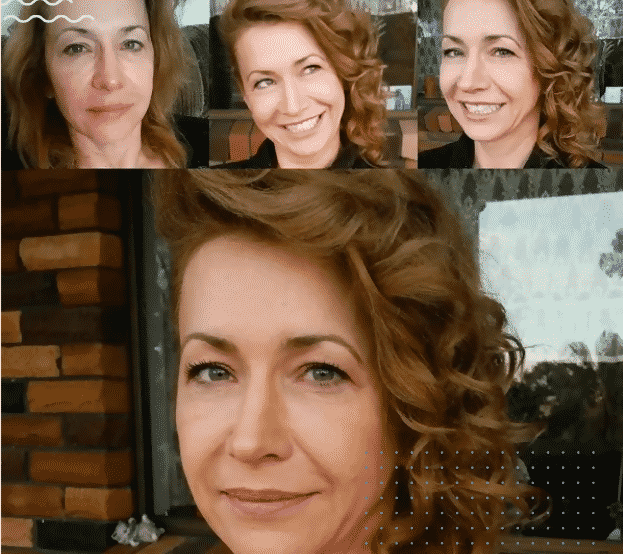 This mom allowed her daughter to do her makeup for this gorgeous makeover. She looks so fresh-faced and much younger with the little bit of makeup that was added.
Beautifully Natural
The trick to makeup is to make it look like you aren't wearing any. This girl achieved that trick so well! This is the perfect look for going into the office or just lounging around the house.
Red Hot
Dark colors will make any look much more dramatic. This girl's eye makeup is so intense that you may not even notice her red lips at first. She is a true makeup artist.