Many of us have ideas of what our dream home would look like, most of us would love a pool in the backyard and have modern stylish rooms. There are many ways we can improve our homes to make to improve them. In today's post we've found 45 Creative Ideas That Will Make Your Dream Home, some of these are DIY and affordable while others are more expensive to bring to life.
These home improvements are both stunning are quite creative, featuring indoor pools, see through bathroom floor, Swing Chair Dining Tables, Bedroom Ideas, indoor slide and some DIY home ideas, these ideas that will improve your home are very unique! You may even find something that you can create yourself.
Most of these ideas are out of reach for many of us, but hey we can still dream right!?
Secret Room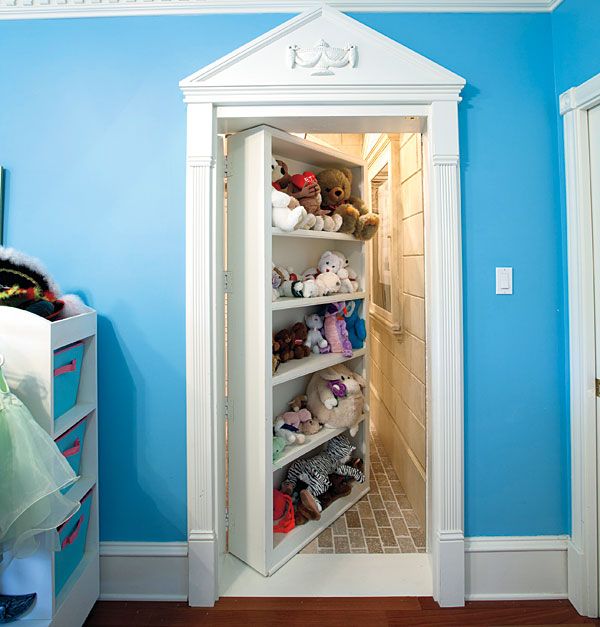 Image credit: HomeTheatre.com
Chalkboard in Dining Room
Image credit: French Country Cottage
Food Bowls off Floor
Image credit: Brookstone.com
Double Bath
Image Credit: Pinningjoy
Recycled Spring Kitchen Stools
Image Credit: Apartment Therapy
Vintage Door Headboards
Image Credit: CactusCreekDaily
Indoor River in House
Image Credit: Unknown
Pirate Ship Bedroom For Yourself
Image credit:Â twincitiesremodeler.com
See-through Bathtub
Image credits: Stern McCafferty
A Wall That Plays Music When It Rains
Image credits: ingeniumetars
Glass Floor and an Open Shaft Below Your Bathroom
Image credits: Hernandez Silva Arquitectos
Kitchen Table Tennis
Image credits: hammacher.com
Swing Set Table
Image credits: psfk.com
Balcony Pool
Image credits: James Law
Backyard Office
Image credits: officepod.co.uk
Indoor Slide
Image credits: David Hotson
Catwalk Around The House
Image credits: nekomemo.com
Beach Sand Under Desk
Image credits: Justin Kemp
Aquarium Bed
Image credits: acrylicaquariums.com
Fire Pit Table
Image credits: moma-design.it
Table Firepit
Image credits: hammacher.com
Indoor Outdoor Pool
Image credits: unknown
Fusion Dining And Pool Table
Buy: amazon.com
Walk-In Pool

Image credits: houzz.com
Skate-park Room
Image credits: Pierre Andre Senizergues
Color Swatch Door
Image credits: studio.arminblasbichler.com
Hammock Over the Stairs
Image credits: ooda.eu
Treehouse Room For Kids
Image credits: mytropolisdesign.com
Backyard Cinema
Image credits:Â fancymaterial.com
Back Yard Beach-Themed Fire Pit
Image credits: unknown
Spiral Wine Storage
Image credits: spiralcellars.co.uk
Vertical Herb Garden in Your Kitchen
Image credits: unknown
Understairs Storage
Image credits: Deriba Furniture
Bookcase Staircase
Image credits: Levitate Architects
Spiral Staircase Slide
Image credits: Unknown
Hammock Bed
Image credits: Le Beanock
Chandelier That Turns Your Room into a Forest
Image credits: Hilden and Diaz
Cat Transit System
Image credit: Because We Can
Ping Pong Door
[mashshare]