A floral design is a timeless choice for a tattoo for a woman, or anyone who loves nature-inspired body art. You can opt for a simple daisy or browse floral design tattoos for ideas. The best way to get a tattoo of any sort is to get something that you'll be happy with keeping on your body, year after year. Bros
Go Minimal
Sometimes less is more and we can definitely say that about tattoos. A minimal floral tattoo doesn't necessarily need a lot of color or any harsh lines; it just needs to be well-done and striking. Luckily, we have a few examples of just that.
This tattoo is small, minimal and features a floral. It's a small tattoo that can look great on an ankle, thigh or wrist, or even your neck — this particular one is on the upper arm.
Look at this purple floral tattoo that's an exact copy of the flower its owner holds. The design is beautiful but also not showy, just enough for a wrist or thigh tattoo.
This particular tattoo opts for one color, black, and it's a dramatic piece that commands attention. It's all one color throughout the flower and the leaves, but yet you can see every thorn, leaf and of course, the rose itself.
You might not any want a flower outright, but maybe something that's natural. Consider a gorgeous black and white tree tattoo like this one.
Mix Florals with Other Elements
You may not want minimalism in your floral tattoo, but what about mixing it with other elements? The flower is a versatile choice in tattoo design, so you can combine it with anything you love or that has meaning.
The lotus flower is often used to signify strength from hard circumstances, as the lotus rises from mud to be a thing of beauty. Here it's used with a glittering gem and the combination makes an amazing floral tattoo.
An anchor is another choice for a floral tattoo, and it has a great nautical theme. Mixed with this set of vibrant roses, it's a colorful tattoo that's a departure from traditional anchor tattoos.
Get Bold with Your Design
On the other end of the spectrum of floral tattoos, you have the designs that are far from minimal. Here you can find big splashy floral designs that look amazing.
The design of this tattoo is elegant and evokes the Victorian age. It features a mix of colors and shading, each petal of the flowers grabbing your attention.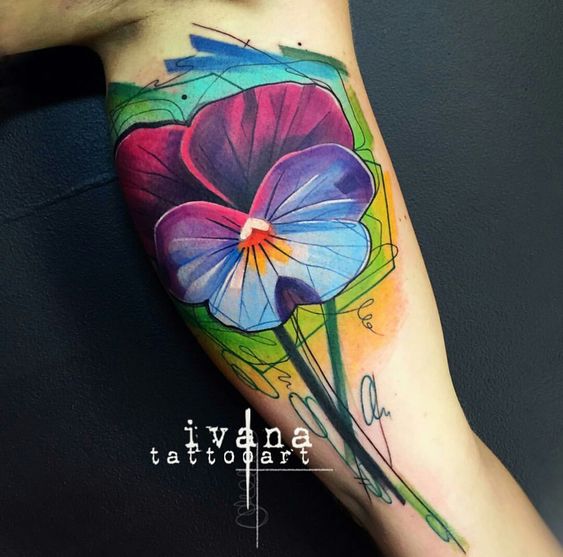 Geometric design is very trendy, and when you use it with a floral twist, it's a lovely combination. Just look at this tattoo that incorporates a rainbow of colors, florals and geometry.
The designer of this floral tattoo has included flowers in various stages of life giving it an interesting motif you don't usually see. The changes are subtle, so you have to look at each part of the tattoo.
Go for a Sleeve
Want more than one floral tattoo? Just go for a sleeve where you cover part of nearly all of your arm. You can have a whole garden of flowers with this choice of a canvas.
This floral tattoo covers the front, back and side of the wearer's arm as a sleeve. It also incorporates a ton of color and different floral elements, making it unique.
Finally, this floral sleeve tattoo uses a minimal choice of color, but it's an intricate design with shading and shadows galore. Several flowers, leaves and other elements are incorporated into it.

[mashshare]