We are all familiar with the idea of a photobomb. Someone sees you posing for a photo and decides to get in the background and make a funny face. Well, turns out even celebrities enjoy photobombing ordinary people. These are some of the best photobombs with celebrities.
John Krasinski
While enjoying a baseball game, these two guys decided to take a fun selfie together. Little did they know that comedic actor John Krasinski was hiding in the back looking right into the camera lens.
Jake Gyllenhaal
This couple was enjoying a special date night when they decided to document how great they looked with a photo. It turned out that their dining neighbor turned out to be the talented Jake Gyllenhaal, who seemed to be eating alone.
Chris Hemsworth
While enjoying a nice day at the pool, a hunky Chris Hemsworth decided to sneak into this couple's photo. We are sure they did not complain once they noticed him in the background.
Keanu Reeves
Beloved actor Keanu Reeves surprised this lovely couple on their wedding day. While walking down the street, he came up and took a picture with the newlyweds.
Jack Black
Even celebrities photobomb other celebrities. While Tom Hanks was taking a photo with a fan, Jack Black decided to get in the shot with a silly face.
Thom Yorke
The lead singer of Radiohead was super sneaky when it came to photobombing a woman's photo while in an art museum. You can barely notice him until you zoom in on his smirking face.
Taylor Swift
Two music legends in one picture? It doesn't get better than that! Taylor Swift decided to step into a photo a fan was taking with fellow country singer Keith Urban at an event.
Patrick Stewart
While Hugh Jackman was taking a photo with some fans, costar Patrick Stewart decided to peep his head in the photo. He's easy to miss at first, but after you see him you won't be able to stop looking.
Jonah Hill
While taking a photo with a young fan, Jimmy Fallon had no idea that his buddy Jonah Hill was in the back pulling a great photobomb prank. Just look at how excited and happy he is!
Slash
The irony in this photo is absolutely fantastic. While this woman wearing a slash shirt was walking her bike, the famous guitarist was walking right behind her.
Bruce Springsteen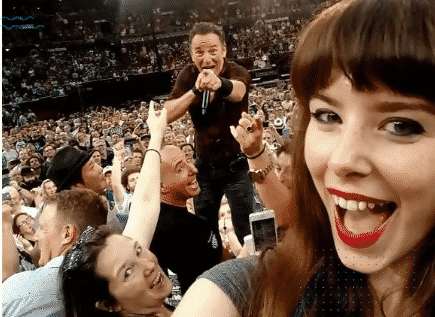 Only The Boss could pull off a photobomb like this. While attending his concert, this girl wanted a selfie of him on stage and the crowd. He noticed and decided to pose for the photo. Epic!
Will Wheaton
While grabbing a quick photo opportunity with Felicia Day, her costar decided it would be a good idea to get in the back of the photo. Will Wheaton didn't let us down with a silly face.
Adele
Talented singer Adele decided to pop in on a couple attending her concert. As they were taking a photo, she put her arms around them and surprised them by quoting one of her own songs.
Michael Cera
Michael Cera is one of the most awkward actors to date, but we all love him anyways. In true Michael Cera fashion, he awkwardly photobombed this couple in the shyest way possible.
Bradley Cooper
Bradley Cooper was casually walking around when he noticed a newlywed couple coming from their ceremony. So, he ran up and made sure to get in one of their wedding photos with them.
Justin Trudeau
Prime Minister of Canada Justin Trudeau just so happened to be surfing on the beach when a beach wedding was going on. So, as the bride was walked down the aisle, he decided to pose in the background with some pretty impressive abs.
Tom Hanks
Tom Hanks is just as nice as people say. When he saw a newly married couple walking around taking photos while on a run, he decided to stop and congratulate them. You can see just how excited the couple was that he ran into them.
Neil Flynn
While this fan was taking a photo with Modern Family star Eric Stonestreet, another television actor was creeping in the background. Look between their heads and you'll see Neil Flynn making a serious face.
Keanu Reeves
Keanu Reeves really enjoys being in people's wedding photos. He decided to give a quick pose with the happy couple when he saw them walking around taking photos.
Andrew Garfield and Emma Stone
While sipping on a cup of coffee, this woman had no idea that celebrity couple Andrew Garfield and Emma Stone were sitting right behind her. They surely did not disappoint with their photobomb skills.
Adam Sandler
Adam Sandler has never been shy when it came to standing out. So, when a newlywed couple spotted him in the background, he decided to come up and congratulate them. Although, he made sure not to leave without getting a good photobomb in.
Jason Momoa
A beach wedding is never complete without Aquaman running around in the background. When Jason Mamoa saw this happy couple, he found a trident and decided to hop in the back of their sweet photo.
Amy Schumer

A newly engaged couple were taking engagement photos in Central Park when a familiar face ran by. Comedian Amy Schumer stopped for a quick photo as she worked up a sweat.
Michael Cera
You would think that the main focus of this photo would be the parrots the man is holding. Instead, it's Michael Cera poking his head into the photo with a sweet smile.
Jimmy Fallon, Chris Pratt, and Chris Evans
While attending an event for the 2015 Superbowl, Jimmy Fallon gathered some of his friends to photobomb a sweet couple. He has definitely earned himself a reputation for creating epic photobombs.
Jason Segel
While wandering around one day, Jason Segel noticed an adorable couple having pictures done. So, in true Jason Segal fashion, he had to be a part of it. He definitely wasn't afraid to third wheel.
Ken Jeong
These ladies wanted to document a great day at an LA Dodgers game. In the process, actor and comedian Ken Jeong decided to peek his head in between them and make a funny face.
Rihanna
Celebrities are just like everyone else and sometimes they prefer not to have photos taken of them. While this may not be an intentional photobomb, Rihanna happened to end up in the background of his selfie.
Jimmy Fallon and Jon Hamm
This family got the photo of a lifetime when they were visiting New York City. Jimmy Fallon and Jon Hamm decided to strike a fun pose and create a photo the family would remember forever.
Prince Harry
Even members of the Royal Family decide to hop in the background of a photo. While at a rugby game, Prince Harry photobombed three coaches taking a picture together.
Kevin Spacey
Kevin Spacey gave this tourist quite a surprise when he was out on a run. The look on her face says it all.
Ed Sheeran
Ed Sheeran wasn't afraid to express his dislike for his favorite soccer team's rivals. While his gesture is considered crude, we're sure it's all in good fun.
Tom Hanks
This guy was too exhausted to stay awake while eating his lunch. When Tom Hanks noticed, he decided it would be a good idea to grab a picture with him. Just imagine the guy's face when he woke up and learned Tom Hanks was sitting right near him.
Michael Cera and Alia Shawkat
Arrested Development stars decided to jump in the back of a photo these two guys were taking. It looks like they took on the persona of their characters for the pose too.
Maisie Williams
While the quality of this photo is pretty poor, we can't help but applaud Maisie Williams for her excited photobomb. She definitely made this guy's night.
Keanu Reeves
It seems like Keanu Reeves has a hobby of finding people to photobom. While some celebrities would rather not be noticed in public, Keanu really enjoys getting attention and giving people a great photo to post online.
Aaron Paul
At first glance you may not notice actor Aaron Paul in the background giving this couple a big thumbs up. We're impressed at his ability to stand out in such a large crowd too.
Steven Tyler
If Steven Tyler wasn't as legendary as he is, you may think he was a homeless woman with bad taste in clothing. Fortunately, he is a skilled musician who enjoys photobombing people.
Norman Redus
While these fans were taking a photo with Game of Thrones stars Peter Dinklage and Lena Heady, someone got a little jealous. Norman Redus from The Walking Dead decided to jump in on the action and give a questionable gesture.
Bill Clinton
Former president of the United States Bill Clinton decided to create an epic photo for his little girl. With a blue ribbon in her hair and a little pout, we're sure she would be smiling after seeing this picture.
Justin Timberlake
While attending a Justin Timberlake concert, these guys decided to take a selfie and show off just how close they were to the stage. Justin saw and wanted in on the photo and gave them the picture of a lifetime.
Zach Braff
Zach Braff just so happened to be walking in the streets of New York City when he noticed this couple taking wedding photos in the middle of a crosswalk. You can see how happy he is for them though.
Michael Cera
Michael Cera seems to be really good at two things: acting and photobombing. He really does have the best facial expressions.
Elijah Wood
Elijah Wood isn't afraid to show off that he is enjoying a party. He popped up behind this trio with a drink in his hand for this epic photobomb.
Justin Trudeau
While this mother-daughter duo decided to take a nice picture together, Justin Trudeau noticed the camera as he was walking by. So, he decided to stop for a second and offer a wide smile in the background.
Prince Harry
Prince Harry seems to really enjoy making goofy faces at the camera while people are taking photos. This couple was completely unsuspecting that a prince was sitting behind them.
Dave Chappelle
Comedian Dave Chappelle decided to get in on the action when this couple was having a cute photo shoot done. He truly is a funny man, even just his facial expressions are hilarious.
Nicolas Cage
Even celebrities have to make stops at the liquor store. This new mom noticed that actor Nicolas Cage was shopping so she asked to take a selfie with him. He seemed pretty excited to do so.
Bryan Cranston
Bryan Cranston was feeling a little left out when a fan asked Ty Burrell to take a photo with her. So, he decided to force his way into it so she could remember him forever.
Arnold Schwarzenegger
While on a bike ride in Paris, Arnold Schwarzenegger rode right in front of a group taking a photo in front of the Eiffel Tower. Now they have a photo with two iconic figures.
Arnold Schwarzenegger (again)
It's no secret that Sylvester Stallone and Arnold Schwarzenegger have a little rivalry. So when Stallone was taking a photo with a fan, Schwarzenegger decided to walk right in front of the camera smoking a cigar.
Bill Gates
This man was so excited to be visiting the Microsoft office that he wanted to take a photo with the plaque. Well, little did he know that he would capture the founder, Bill Gates, walking by right behind him.
Queen Elizabeth II
While the Queen of England is supposed to be majestic and proper all of the time, the Queen likes to have a little fun sometimes. So, she decided to get in on the photo these two girls were taking together.
Dwayne "The Rock" Johnson
This guy was quick thinking when he saw The Rock walking on the street. He decided to take a selfie with him in the background and he gave the most perfect pose.
Wiz Khalifa
You would definitely miss seeing Wiz Khalifa in a photo with so many people. Look closely on the left and you can see the rapper poking his head in.

[mashshare]