Nobody likes being stuck in an awkward situation. Well, sometimes you can feel awkward by osmosis while looking at an awkward situation. These photos will surely make you feel secondhand embarrassment for these people.
Stuck
He was just trying to do the right thing and not drive buzzed. Now this is his punishment. Hopefully he can pick up some groceries while he's there.
Forgettable
This guy's confidence was absolutely shattered. He definitely won't be going back there for a little while.
Shot to the Heart
What type of punishment do you get if you shoot your dead with an arrow? This kid will find out soon enough.
Excessive Crying
We all have really bad days. This girl seems to have been crying a lot lately though and wasn't afraid to share it on her medical records.
The Hot Aunt
When it comes to attractive people in your family, it's better to leave it unsaid. Well, this guy had no shame in putting out his attraction for his aunt right there on the Internet for everyone to see.
Stuck
There is nothing more awkward than walking into the wrong bathroom. Well, maybe being stuck in the wrong bathroom. We wouldn't know.
Age Is But a Number
Age is but a number to some people. So, next time you see an older person with a younger person, don't assume that they are creepy or else you may feel really embarrassed later on.
Judging Hard
The only thought going through this nun's head is probably how terrible the youth are these days. Well, it's a good thing that only God can judge and she doesn't matter.
One Handed Throw
How much more awful can you feel? This ref is going to have some pretty terrible dreams and flashbacks for years to come about this moment.
Seeing All Of You
Be careful when you send your nudes, gentlemen. Your girl may be with her family in a compact space like a car. Always send a warning beforehand!
Grandma
We are just impressed that this grandmother can text so well. Unfortunately her granddaughter has quite the mouth on her.
Hot Baseball Players
Be careful what you put out on the Internet. It may just walk right back into your life and shove what you said in your face. However, we couldn't really complain about this situation.
Technologically Challenged
The older generation really does struggle with social media and technology. How often do you find your parents posting something accidentally on Facebook? This one definitely takes the cake, though.
The Performer
When it comes to embarrassing yourself in front of your crush, this girl absolutely killed it. It would have been even better if she started singing.
Third Wheeling
This whole situation is awkward. Why is the ex hanging out with them? Why did he agree to take the photo?
Can I Take Your Order?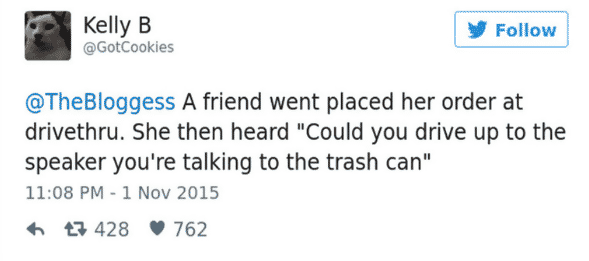 Nowadays, the speakers at a drive thru and the trashcans can look the same. We're sure that she isn't the only one to make this mistake.
Double Trouble
Do you think these two are together? God, we hope so! That would just be too weird.
Blinded by Love
It's funny how people completely lose all self awareness when they see someone attractive. This girl acted completely out of character and made a costly mistake.
Here for Jesus
This girl is not afraid to let the world know that she believes in Jesus Christ. Well, now her entire driver's ed class knows it.
Demonstration
There are bound to be awkward moments as a sex-ed teacher. Well, this teacher got a little too into her lesson and decided to put on a physical demonstration for her kids.
Depressed
If you are looking for a good pickup line, this is not one of them. In fact, it's pretty insulting and may even get you slapped one day.
Spreading Happiness
This man came to realization that he was considered a grump by his coworkers when he saw a tweet from someone he works with. Now he has to make sure he smiles more.
Two Types of People
Even dumb people get into college. It's a wonder how they graduate with decent grades. We can only give professors props for dealing with this type of student.
Two Gatorades, Please
This kid's quick thinking is going to help him later on in life, especially if he keeps getting into trouble like this. At least he has two gatorades to enjoy now.
The Perfect Person
This makes us cringe just thinking about it. A word of advice for those single people out there trying to flirt: don't bring up Hitler. Just don't.
The Skateboarder
People don't seem to recognize Tony Hawk nowadays, even when they are holding his ID right in their hands. How embarrassing would it be to find your interaction with him on his Twitter account?
Liar, Liar, Pants on Fire
If you're going to lie on the Internet, at least check the background of your pictures. This cat has clearly sat on this couch. Clearly!
Wrong Person
Nobody likes going to see the dentist. Well, this girl has to switch dentists entirely now!
Death in the Family
This person has used her "Who died?" joke for the last time. It really isn't funny when someone actually has died.

[mashshare]