Photo by Ralph Kayden on Unsplash
Having a small kitchen space may be difficult for some people, especially those who have lots of big ideas that would not fit the room. It could be frustrating and, at the same time, disappointing. Do not worry, though! Tiny spaces need only a little creativity to make them work in your favor.
Maximizing the space, storage, and functionality are sure ways to broaden your small kitchen's use. Aesthetically, you can also be creative in decorating the area to make it look palatial. Fortunately, in this article, we have rounded up a few more clever ideas that could help you turn your tiny space into a functional and elegant kitchenette.
Kitchen Layout
Before working on what to place inside your kitchen, think first of what layout would best suit your tiny space. The design will depend mainly on the square footage and the shape of your area. There are a lot of layout options you can consider. You can have a one-walled, galley-type, peninsula, L-shaped, horseshoe, and an island-type of a kitchen.
Also, think about how you will use your kitchen. Decide on where you will want everything to be placed. This will help you determine the kind of storage you will need, which is vital for the next tip.
When you have decided on those things and have pictured out how you would like your kitchen to look like, you can now plan the cabinetry, accents, lights, and other more items that you can place inside your small kitchen.
Cabinetry
Photo by Sidekix Media on Unsplash
You have to be wise in using the space, especially in choosing cabinets for your kitchen. In choosing cabinets, opt for those that are practical, stylish, and not bulky. You want to have cabinets that are big enough to store everything you need but also small enough not to eat your entire kitchen space.
Corner cabinets are great options to get extra storage in tight corners. You can also integrate drawers and pull-outs in your cabinet to store small items. Consider also storage towers, or slide-out storage towers to utilize small tight spaces. You can purchase these sorts of cabinets in department stores, furniture shops, or superstores like Home Depot, Costco, Target, Walmart, among others. Also, you can opt to purchase online kitchen cabinets that are ready to assemble and easy to install.
In the case of an island-type of a kitchen, you can have built-in cabinets and drawers into the island to efficiently use the space. You will be surprised to know how much storage you can fit in your tiny kitchen if only you know how to utilize the space.
As to the style of these cabinets, you can consider stainless steel cabinets that have reflective surfaces. They are great at giving an illusion of extra space. Reflective surfaces will reflect the natural light that would make your kitchen look brighter and more spacious.
Statement Lights
Install statement lights. No one is going to notice how big or small your kitchen is when you have stunning pieces of statement lights. It will also help you lighten up the room and set its mood.
Bright lights and light-colored cabinets and walls are great combinations to make your small kitchen feel spacious and clean. You can also add on pieces that will match your statement lights. Note that these items must go with the theme of the room and that it will make your kitchenette look bright and airy.
Mirrors
Staging your kitchen with a few mirrors will make your space look and feel larger. You can install mirrors, with or without frames, on your wall to double the size of your kitchen area.
If it is not possible to utilize a wall for the mirror, you can also use mirrored tiles on your kitchen backsplash. Not only will it reflect light but also, it will add depth to the room to make up for the small space and minimal natural light.
Organize strategically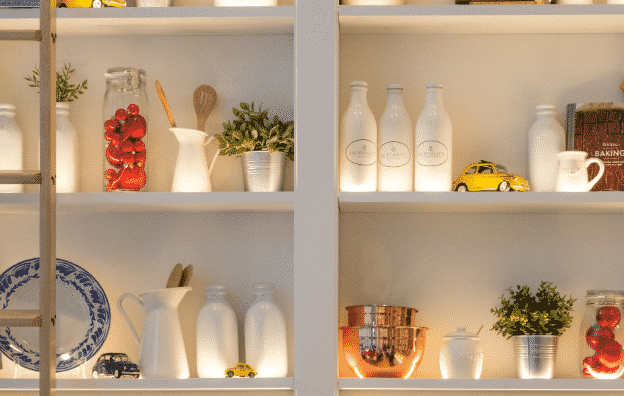 Photo by Jason Leung on Unsplash
If you have installed shelves for storage, make sure that these shelves do not look cluttered. Arrange the items placed on these shelves in a uniform but creative way.
You can group bowls and mugs by color and by size. You can also utilize uniform containers made of glass or plastic. Organizing them in such a way will make your kitchen shelves look aesthetic and cohesive.
If you worry about mixing up items or spices, you can fix this by labeling your containers with uniform labels also.
Takeaway
Having a small space is not a hindrance to having your dream kitchen become a reality. Short square footage should not limit you from maximizing your kitchen's full potential. Accordingly, there are a lot of things you can do to your tiny space to convert it into an elegant and functional kitchenette. With a little creativity, work, and a few smart tips, your kitchenette will be just as you imagined it to be in no time!