Everywhere we turn, it seems we are bombarded by the next big Blockbuster hit – and most recently they seem to all be Marvel movies! Here is a list of low-budget films that became huge sensations with a cult following.
Here are some of the lowest budget movies that became moneymaking machines. Take a look at these:
Blair Witch Project – $60,000 budget
The Blair Witch Project is the most profitable movie of all time, when it comes to return on investment. The film racked up an extraordinary $240 million. Quite a big leap from $60k! This film, released in 1999, was the first faux "found footage" film, and since then, the genre has taken off.
The Full Monty – $3.5 million budget
This British movie became an instant classic when it was released in 1997. The film is the tale of steelworkers who go on strike, and decide to turn to stripping to pay the bills. The film is a cult classic all over the world. The movie has heart, laughs, and charisma – worthy of its status and success.
Juno – $7.5 million budget
This movie quickly rose to popularity with its charming cast and endearing story. Jennifer Garner took a big pay cut so the film could stay within budget. The movie earned $231 million and many Oscar nominations.
Little Miss Sunshine – $8 million budget
This movie is chock full of stars – Greg Kinnear, Steve Carrell, Toni Collette, and Alan Arkin. The movie ended up making $100 million, and won 2 Academy Awards. The movie is the tale of a family traveling across the country, so the young daughter can compete in a pageant. It's funny, heartwarming, and bittersweet – definitely worth a watch!
Paranormal Activity – $15,000 budget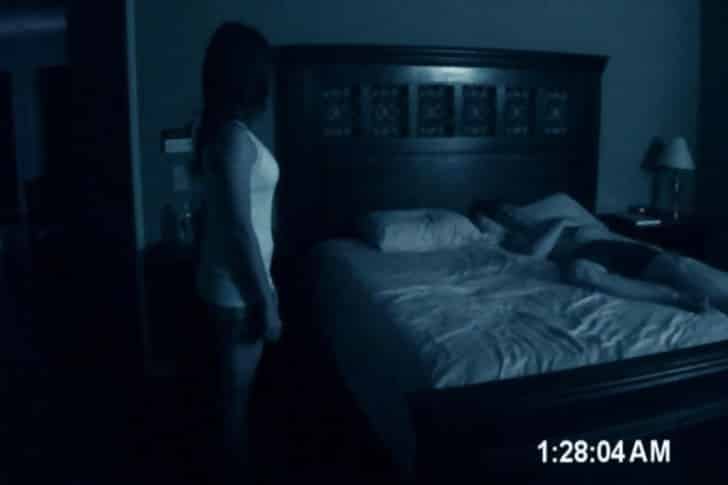 $15,000? All they had to buy was a few baby monitors. Anyway, this simple, but frightening movie made $193 million! It also launched the career of green director, Oren Peli.
Annabelle – $6.5 million budget
Annabelle is a movie about a horrifying, possessed doll (I mean, look at that face – yikes!). This spinoff of The Conjuring made $257 million; it also made us jump out of our seats!
Saw – $1.2 million budget
Let's just get the creepy faces out of the way. You'll recognize this one from your worst nightmare! This disturbing movie made $103 million, and it spawned seven sequels.
My Big Fat Greek Wedding – $5 million budget
Nia Vardalos and John Corbett were absolutely adorable in this smash hit about a Greek woman, from a very traditional Greek family, marries a non-Greek man. This cute and hilarious film made $368 million! Not too shabby!
Rocky – $1 million budget
It's hard to believe this pop culture mainstay was made with only one million dollars, but it was! It created 3 sequels, and a spinoff series staring Michael B. Jordan called Creed. It made $117 million at the box office! Go Rocky!
Moonlight – $4 million budget
This wonderful movie earned $65 million at the box office and three Academy Awards. It won the 2017 Oscar for Best Picture, after an awkward mistake where La La Land was claimed to have won it. This powerful movie moved audiences everywhere with its portrayal of queer and black culture.
My Left Foot – $600,000 budget
This 1989 classic featured a very talented Daniel Day-Lewis who nailed his role as a man with severe cerebral palsy who could only control his left foot. This unbelievable true story shows how the man became a painter and writer. This inspiring film made $14.7 million.
The Purge – $3 million
Gah! Again with the creepy faces! This movie, which spawned a franchise, ended up earning $89 million. The franchise as a whole has earned $445 million! It stars Ethan Hawke and Lena Heady who live in a society where everyone gets a 12-hour window where all crime is legal. Apparently, most people will go insane if given this power. We think we will stay in this society instead!
Mad Max – $300,000
The 1989 Mel Gibson smash made $1 million at the box office (which was still a lot of money in 1989)! The franchise is still alive today starring Charlize Theron and Tom Hardy. At one point, the original Mad Max held the Guinness World Record for the highest profit-to-cost movie.
American Graffiti
This film was made by a pretty unknown filmmaker at the time named George Lucas. American Graffiti made $115 million at the box office. It's no wonder Lucas went on to do great things!
Star Wars – $11 million
While we are talking about George Lucas we obviously have to mention Star Wars. $11 million seems like a huge budget for 1977, but until Steven Spielberg's E.T. came out, Star Wars episode IV was the highest grossing film of all time – earning $775 million at the box office.
Split – $9 million budget
M. Night Shyamalan's hit Split made $278 million. James McAvoy's acting is phenomenal in this sequel to Unbreakable, starring Bruce Willis and Samuel L. Jackson. He plays a man with multiple personalities. Just like the rest of Shyamalan's movies, this one is full of twists and turns (and big profit)!
Open Water – $130,000
The plot of this film is pretty simple – a couple goes on an ill-fated scuba diving excursion where they end up in the sea surrounded by sharks. You know how they saved so much money? Instead of CGI, they used real sharks! Much cheaper… but probably not much safer. It earned $55 million when it came out in 2003.
Halloween – $300,000
This horror film is obviously a cult hit, as it has inspired TEN successful sequels. This low-budget film made $70 million dollars worldwide. This franchise has been going strong for 40 years now!
Lost in Translation – $4 million budget
This movie, starring the wonderful Bill Murray and Scarlett Johansson as two unlikely friends became a cult sensation and it made $119 million! Sofia Coppola wrote and directed this film – which won an Oscar for the screenplay. It is certainly cult-worthy.
Pulp Fiction – $8.5 million budget
This film had a modest budget considering the stars involved – John Travolta, Uma Thurma, Samuel L. Jackson, and Bruce Willis. Tarantino's second movie was obviously a HUGE success – earning $213 million at the box office! One of the most iconic films in history – who didn't have this poster in their dorm in the 90s?
Napoleon Dynamite – $400,000 budget
We all recognize and love the weird but charming characters from this instant cult sensation. It's a simple movie set in a simple town. The humor is dry and all-around odd – but people loved it! It made 100 times its budget at the box office.
Buried – $2 million
Ryan Reynolds stars in this horror flick, which is physically uncomfortable to watch at times. The set was cheap, as the whole movie takes place in a coffin. Sounds boring, but it must be really great because it grossed $20 million when it was released.
The Inbetweeners Movie – $5.3 million budget
The Inbetweeners burst onto the British scene with their hit show in 2011. The four funny teens quickly grew a worldwide cult following. The Inbetweeners Movie made a very impressive $65 million at the box office!
Get Out – $4.5 million
Jordan Peele's 2017 debut hit became one of the most popular of the year with its exceptional weaving of horror and social commentary. It earned $255 million and launched funny man Jordan Peele's career as a serious writer. The movie even won an Oscar for Best Original Screenplay.
Supersize Me – $65,000
This 2004 documentary by Morgan Spurlock was made with a meager $65k, but it made $22.2 million! Not only that, but the movie was so eye opening, it actually caused McDonald's to change their menu and their portion sizes. Way to go!
Garden State – $2.5 million budget
Zach Braff wrote and starred in his debut film. The movie earned $35 million at the box office with its smart, coming of age tale. The soundtrack, which Braff picked out, became a cult hit itself.
Shaun of the Dead – $6.1 million budget
This rom-com added a new layer – zombies! The film made $30 million and launched the careers of Nick Frost, Simon Pegg, and Edgar Wright. The three worked together on two more sequels, and the trilogy has become a huge staple in the rom-com-zom community.
Donnie Darko – $4.5 million budget
This psychological thriller propelled a young Jake Gyllenhaal into stardom when it debuted in 2001. It only grossed $7.5 million when it was released, but the creepy movie (that rabbit still haunts our dreams) quickly became a cult hit.
Moon – $5 million budget
This amazing film didn't need a huge Hollywood budget with Sam Rockwell's fantastic acting, and a fascinating storyline. Rockwell isn't usually a leading man, but he was so phenomenal in this role he turned this simple movie into a huge mainstream victory.
Catfish – $30,000 budget
This low-budget indie film made $3.5 million at the box office with its intriguing tale. The movie has horror, love, and sadness. The story turned out to be so commonplace, the movie launched a spinoff that is still running 7 years later with great success. The moral of the story is that you never know who the person you're talking to online really is – spooky!
Clerks – $230,000 budget
Kevin Smith's 1994 hit had a simple premise – the lives of young convenience store workers. The movie instantly became a classic – particularly amongst the college crowd. The cult classic made a whopping $3.2 million when it released. Pretty impressive!
Pi – $68,000 budget
This Darren Aronofsky debut made a ridiculous $3.2 million at the box office – which is a massive 6,800% profit! Aronofsky definitely earned his great reputation as a director with this incredible psychological thriller. He went on to create two more cult classics: Black Swan and Requiem for a Dream.
Friday the 13th – $550,000 budget
Friday the 13th is probably the most well-known slasher film. With a budget of just over half a million dollars, the film made $60 million at the box office! It inspired a franchise of 12 films and together they've made a total of $464 million to date! We can't wait for them to release a 13th installment!
Snatch – $10 million budget
10 million seems like a lot of dough, but when you consider the talent hired for this film, it isn't that much. The cult hit stars Brad Pitt, Jason Statham, Benicio del Toro. The film is the work of Guy Ritchie and Matthew Vaughn. The hit grossed around $83 million worldwide.
Ghost World – $7 million budget
Ghost World is an excellent coming-of-age tale about two girls trying to make it through life in suburbia. This film was based on a comic series, but unlike the comic movies of today, it did not make billions at the box office – it actually only made $8.7 million. Despite the low earnings, the movie has become a classic, with a huge following.
Kidulthood – $920,000 budget
This 2006 film portrayed the grim lives of impoverished UK citizens living in West London. The film ended up making over $2 million, which is huge for an indie film.
Beginners – $3.2 million budget
With a huge star like Ewan McGregor, $3.2 million really isn't a big budget. But this true story of a man who finds out his 75-year-old dad is gay. The film made $14 million after its release and it earned an Academy Award for Christopher Plummer.
Son of Rambow – $6.1 million budget
This heartwarming tale revolves around two young boys who try to reenact the famous scene from Rambo. The film stars a young and talented Will Poulter, and the nostalgic tale grossed $10.8 million!
Submarine – $1.5 million budget
This amazing film was the first from hilarious British comedian Richard Ayoade. It's based on a novel by Joe Dunthorn, and it tells the story of a young man trying to get good grades, save his parents' failing marriage, and keeping his pyromaniac girlfriend out of trouble. This film is funny and touching – definitely worth a view (or ten)!
Bronson – $230,000 budget
This disturbing, but enthralling film stars Tom Hardy as infamous villain Charles Bronson. Hardy played the violent prisoner perfectly. The film made ten times its budget at the box office.
Grizzly Man – unknown budget
Werner Herzog pieced together found footage of Timothy Treadwell, a man who would "hang out" with gigantic, wild bears in Alaska (against obvious advice to not do so). The odd documentary earned $4 million at the box office, after Treadwell's (unsurprising) death.
Bowling for Columbine – $4 million budget
Like all of Michael Moore's documentaries, this one is quite controversial. This movie, surrounding the gun debate in America, made a ridiculous $58 million at the box office – and scored Moore a huge new fan base.
Dogma – $10 million budget
Kevin Smith sure does know how to tell a story. This is a strange one about two fallen angels who befriend a woman who works at an abortion clinic. This eye opening film earned $30 million at the box office, and is still a cult classic today.
Brick – $475,000 budget
A talented, young Joseph Gordon-Levitt stars in the noir style film by Rian Johnson. Unlike the noir films of days past, this one takes place in a modern high school, and it is a fantastic mystery worth checking out if you've never seen it. It made $4 million after its release, so you know it's going to be good!
28 Days Later – $8 million budget
This horror film takes place in the UK, and it follows the lives of the survivors of a zombie apocalypse. The movie, directed by Danny Boyle, is a great social commentary, and is incredibly entertaining – no wonder it made $80 million at the box office.
American Psycho – $8 million budget
In this psychological thriller/horror film, Christian Bale stars as Patrick Bateman, a successful banker on Wall Street. The catch? He is also a murderer. Bale was almost skipped over for this role, but it's a good thing he wasn't. This movie launched him into stardom – and scared the pants off of us doing so!
Lock, Stock, and Two Smoking Barrels – $1.3 million budget
This low-budget Guy Ritchie film made a whopping $28 million at the box office. This movie is certainly a cult classic; thrusting Vinnie Jones and Jason Statham into stardom.
A Nightmare on Elm Street – $1.8 million budget
We still can't go to sleep thanks to this disturbing movie! This Wes Craven slasher film made $25 million after its release, and has spawned nine following films.
Swingers – $200,000 budget
This hysterical cult comedy was written by Jon Favreau. Favreau also stars in the classic alongside Vince Vaughn. This low-budget film grossed $4.6 million at the box office – and it certainly didn't hurt either of these guys' careers!
Night of the Living Dead – $114,000
This 1968 thriller was done in black and white just for extra creepiness. It worked. This influential horror film features a group of people hiding in a farmhouse from some terrifying monsters. The film grossed $30 million worldwide and has spawned numerous, successful sequels.
Blue Valentine – $1 million budget
This movie tells the tale of a couple and a shared tragedy they work through. The touching film was an instant classic, and it propelled the careers of Ryan Gosling and Michelle Williams even further. The film made $16.6 million at the box office.
The Hills Have Eyes – $230,000 budget
This 1977 film features a family stuck in the middle of nowhere who are being hunted by savages. The small budget film scared the pants off of everyone and earned $25 million at its release. It is still regarded as one of the best horror films to date.
Nightcrawler – $8.5 million budget
We don't want to spoil this rollercoaster of a film for you, but it is really riveting. Jake Gyllenhaal gives an epic performance as a journalist in Los Angeles. The film made over $50 million at the box office. This one will have you on the edge of your seat!
Don't Breathe – $9.9 million budget
This movie became a huge hit and earned $160 million when it was released in 2016. The film is about three burglars who try to rob a blind man – but it doesn't go so well. This film is a great, captivating watch!
The Terminator – $6.4 million budget
I'm sure most of you have never even heard of this film – it only grossed $78 million and spawned four sequels. Oh, and it stars this guy named Arnold Schwarzenegger as a time traveling cyborg. Definitely a must-see!
The Big Sick – $5 million budget
This film stars Kumail Nanjiania, whose life it is based on. The film stars great acting and is critically acclaimed. No wonder it made $56 million profit!
The Gift – $5 million budget
The usually hilarious Jason Bateman stars with Rebecca Hall and Joel Edgerton in this thriller. The performances are all top notch and gripping. This creepy movie earned almost $60 million when it debuted in 2015.
No Escape – $5 million budget
This action-packed film stars Owen Wilson stepping outside of his role as funnyman and thrust him into an incredibly wonderful serious actor. The great performances in the movie and the great story earned it $55 million at the box office. Woah!
The Evil Dead – $400,000 budget
This classic horror movie was directed and written by Sam Raimi. Starring Bruce Campell, this film left us feeling disturbed for days! It must've left an impression on a ton of people, because it made $29.4 million in 1981. This scary film earned its title as one of the most influential horror films of all time.
Just because you don't invest much money doesn't mean you can't make it all back. With great acting and storylines, even some of the lowest budget films became huge successes!