Before Wendy's forged a trail on social media by posting inflammatory and hilarious tweets for the world to see, you wouldn't imagine fast food would equate to post wars and roasts. These are the best times Wendy's put their money where their mouth is.
Just Keep Swimming
Come on, Logan. You can do better. How dare you insult Dory like this?
Gotta Get Me Some Of That!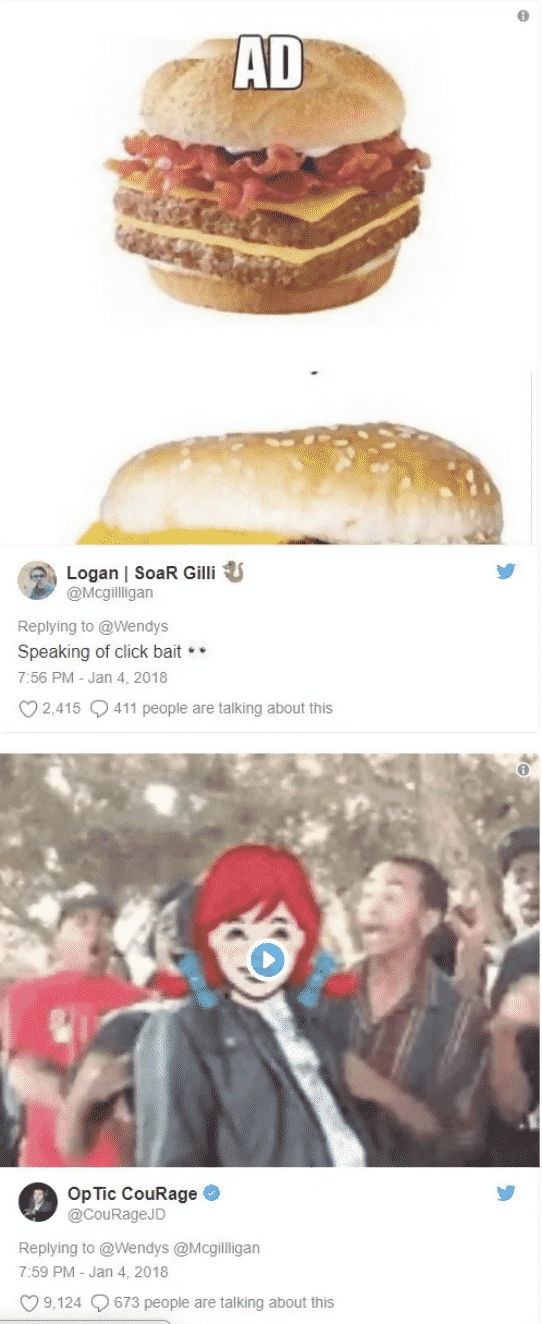 Wendy's is the best female-named fast food, hands down. Oh wait, it's the only fast food with a female name.
Frenemies
One thing is for sure: Wendy isn't afraid to throw down about their competitors. To be fair, we agree that their meat tastes subtly less previously frozen than McDonalds and Burger King.
No, Thanks
Turns out, Wendy isn't scared to share her thoughts on other twitter profiles either. Next!
So Basic
We have to say, this is spot-on.
Selfie Time
Okay, but this guy was asking for it. Guess Wendy's thinks he needs to beef up!
No One Is Safe
Not even TV celebs are safe from Wendy's savagery!
Bad Haircuts
Yikes. As if a bowl cut could get worse.
Too True
Some of Wendy's one liners hit a little too close to home. Straight savage.
Well, this was probably the best response Wendy's could have clapped back. Seems its either hot or cold for this guy.
Hot & Fresh
Burn, big guy.
Oops, I forgot!
Well said, Wendy. Well said.
Trash
A picture really does say a thousand words.
When You Come For Wendy's, She Claps Back
Oh, snap. Wendy: 1, Burger King: 0.
Friendly Neighbor
Wendy's isn't always savage. How sweet!
Witty Wendy
Taking a more witty approach, Wendy's answer is a slam dunk here.
Followers
But it's pretty hilarious when they are savage, too.
No One Does It Better
Let's face it…Wendy's beats the other fast food chains. No competition.
Ouch
Their insults are especially effective when they capitalize on their competitors' mistakes. Exhibit A.
Fringe Chains
Fringe fast food chains don't even stand a chance to join the competition. Take a seat, Carl's Jr.