Wedding pictures can be one of the most significant captures. Good photographers don't miss a thing. Here are some of our favorites.
Wedding Blooper. When the cameraman says he will make sure to capture every moment, believe him.
1
I guess that the toilet was the only seat in the house for the bride to sit and get her gown adjusted.
2
We are hoping that cake represents the "Year of the Cat" or "Year of the Tiger". It sure looks like a pile of poop though.
3
Don't cry Sweetie, I promise we won't use this picture on our "Thank you" cards.
4
I know my pet mouse ran up here somewhere… there he is!
5
Let's get a glamour shot by the most beautiful statue in the garden. Do we all agree on this one?
6
6
Help, I lost my right shoe!
7
No matter the circumstances, the bride must always smile for the camera.
8
Damn this reception is boooooring!! Let get this party rockin'!
9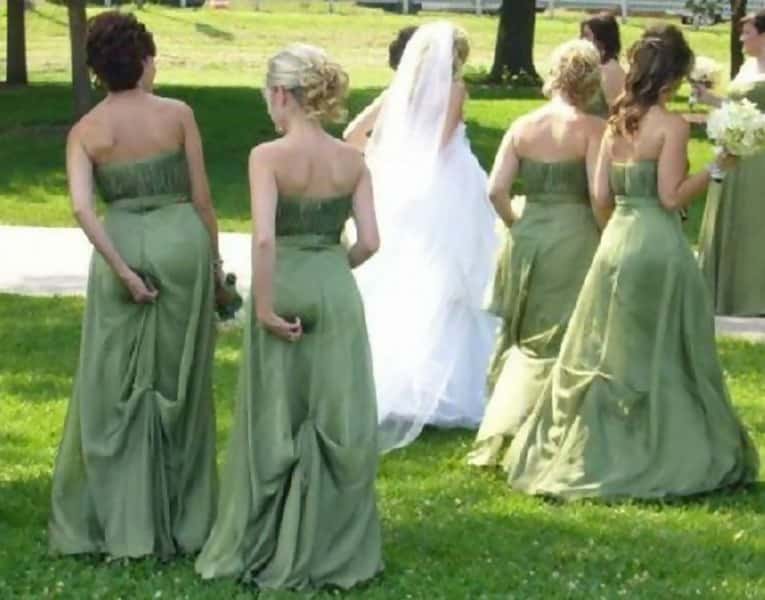 I told you we should have worn our panties with these gowns!
10
I told you Baby… clothes off the rack never fit properly. We should have gone to a tailor and dress maker.
11
Lucky You. It's a good thing I'm here to get your dress fixed for you. You can thank me later.
12
Look Flipper…humans can do tricks too!
13
da
Damn that was a great wedding party… better than my other three.
14
Who says you can't have a wedding for 50 bucks!
15
Halloween Theme Wedding. I'll bet the cake looks pretty bitchin'.
16
Last man standing is about to go down. Like we said, great wedding photographers don't miss a thing.
17
For your eyes only. There's more to be seen here, but it's' for the groom's enjoyment only.
18
Wedding bliss. I bet the cameraman is having more fun than these two love birds. This bride should have been more careful. We know it's her wedding, but can't she just wait?
19
Nothing really "funny" here…just a very cool picture.
20
The looks of love. We know who will be boss after the wedding.
21
The proud and happy father of the bride is neither.
22
Photoshop is awesome, great coloring of the bouquet…how about the rest of the picture?
23
Honey, I have a great idea! Let's have our wedding right in the middle of a nuclear protest.
24
Victory. It's now over, and this bride is no less than happy that she can bid farewell to celibacy. I think just a bit over-reacting, though.
25
This horse just wants to have some fun, too. He's got the lean in going too!
26
Just taking a leak. What is so funny about it?
27
Very cute couple. Wonderful picture except the background, tons of people and one goofball.
28
We've heard a lot of people called a "horse's ass" before, but we've never actually seen one…until now!
29
Focus! In photography, there is something we call focus. It's the couple who should have been the focus in this snap. We can only imagine what was going on to the right in this picture…which is why this was the best angle to take the shot.
30
Hubby looks a little weathered. Must have been an awesome reception. Run out of rice to throw?…no worries, beer will work.
31
The other woman who lost out on the husband sweepstakes appears to have trouble letting go.
32
Let's hope the foundation of their relationship is substantially stronger than the foundation of their wedding cake.
33
This one has us baffled. We are guessing that the lovely couple didn't have doves or pigeons but wanted a beautiful wedding photo releasing birds. Either the photoshop dude didn't shop in doves or the couple thought a picture from a distance…no one would notice that they are tossing dead frying chickens.
34
Oops…sorry Babe, I'll get it.
35
Who doesn't love dogs? Dogs make everything great, even that first romantic wedding kiss.
36
Wedding pictures of green, white and khaki are soooooo boring. Let's add a splash of red and blue… perfect!
37
It's a bummer this silly couple got in the way of a great photo of a fisherman reeling in the big one.
38
Sadly, this was a one take only picture of the bride
Jumping into the pond. Great color splash. Someone
Forgot to say "smile".
39
Imagine this guys look if it were a deep, intimate passionate kiss?
40
Excuse me sir… we are security. Approach no further or we'll be forced to shoot.
41
Seal it with a kiss. There's nothing that a passionate kiss cannot obtain. Achievement unlocked.
42
It's so hard to get 2 people to agree to do something… It's amazing to get 10 to all agree! But then… maybe not.
43
Lovers' lane. This two should know there is what we call a honeymoon. Go somewhere else where there is privacy, will you?
44
A little distracted. Well, the cameraman just wants to focus on the groom and not the bride.
45
Surprise attack. What is he doing? It looks like she has a difficult time to breathe.
46
Freakish bridesmaid. It looks like it's real. With such a reaction, there's much that this snap ain't telling. We'll leave it to your imagination.
47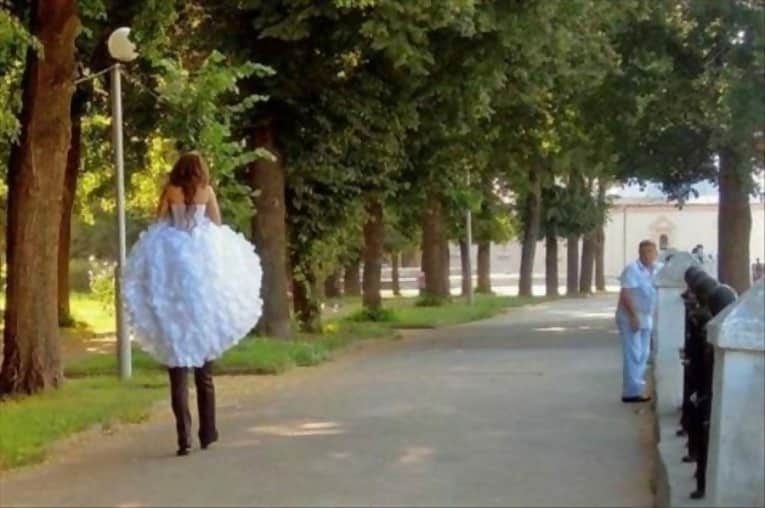 Can't you go any faster Babe? We'll be late for our wedding. I told you we should have gotten the limo package.
48
I guess the garden statue was being used.
49
Get used to it Babe…
50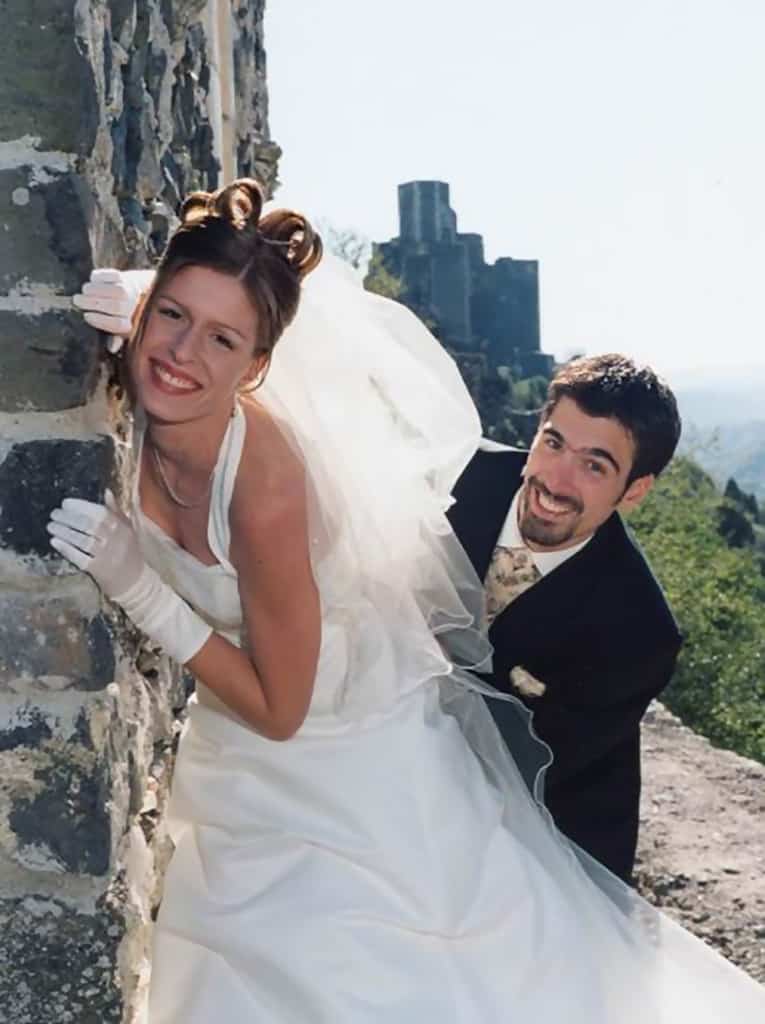 C'mon Baby, we should probably get back to the reception.
51
We're not too sure how someone could this close and to you and not know.
52
Who doesn't love a great faceplant at an otherwise dull reception.
53
You just know by the look on her face she's thinking…"All these hot studs on the beach and I wind up with this dude?"
54
There's no way my butt is THAT big!
55
Who says true love isn't magical.
56
Every "man" for himself on this sinking ship.
57
Hang on, we'll have your rooms ready shortly. Just need to change the sheets.
58
This is just creepy.
59
We love weddings filled with class and dignity.
60
OMG…I hope our first night is a little more romantic than that!
61
Why can't they just get a room?
62
Clearly, there's nothing left to the imagination with such a gown.
63
I ain't no stinkin' ring bearer!
64
Proud Hubby…or embarrassed?
65
We have no idea at all what this is about.
66
We're pretty sure that the shoes indicate that this pic wasn't an accident. We needed a shoe shot.
67
I'm pretty sure we can crop this picture for the album.
68
Beach Wedding. It's not beach wedding without the sand and the sea touching your skin.
69
Wrong Church. We told you this is not where we're supposed to be.
70
Where are all those chivalrous groomsmen when you need them?