The DIY Island
When it comes to doing things around the house, many people will skip hiring a professional and try to do it themselves. While this can work some of the time and save people quite a bit of money, some things are better left to a professional with training and who knows what they are doing. These DIY fails will make you think twice before fixing something on your own. Adding an island to your kitchen is one of the best decisions you'll make. It provides more counter space and storage space. However, it's important to make sure it's in proportion with the rest of your kitchen.
Broken Glass
When it comes to having a BBQ at your house, never put a small portable grill on a glass table. Heat also travels downward and will heat the glass so much that it will shatter. Nobody wants glass in their burger.
Mechanic's Worst Nightmare
When it comes to fixing cars, some things are best left to your mechanic. This person's gear shifter broke, so they got creative and decided to use a wrench instead. Hopefully they know which gear they're putting their car in!
Dead End
There are many times you'll see something strange in a newly built home that makes you question what the contractors were thinking. However, this is really something out of the ordinary. We can only wonder what these steps were supposed to lead to.
The Puzzle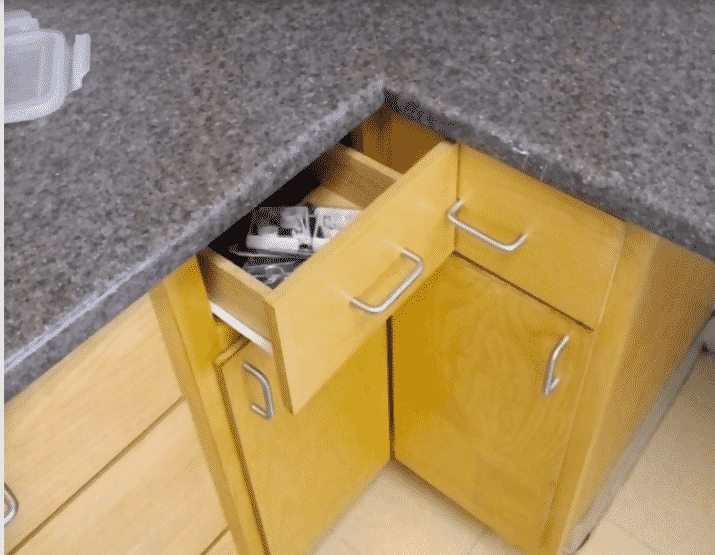 Well this is just a bad design job. How are you ever supposed to get into these drawers? That's two storage places that just won't ever be used.
Duct Tape to the Rescue
Some people out there have this idea that duct tape solves everything. This person in particular used duct tape to keep his toilet from falling apart. Hopefully it works out for him in the long run.
Tile is not Indestructible
If your tile starts melting, you may have bigger problems to worry about. We would be afraid to turn this sink on. You may not know what is going to come out.
IKEA Furniture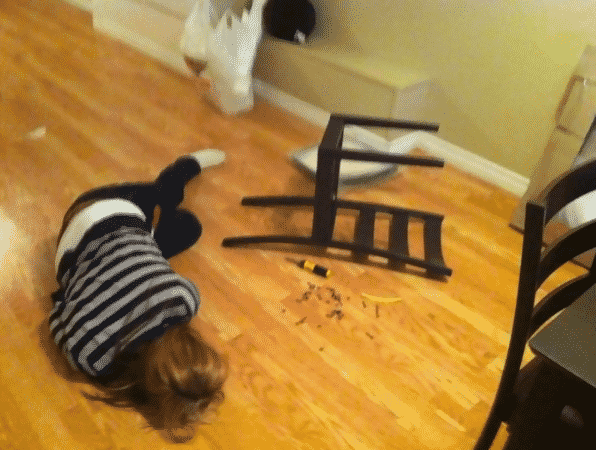 Everyone knows the struggle of putting IKEA furniture together, especially when the instructions are in Swedish. This girl must not know what a chair is supposed to look like because this was the outcome of her trying to build one. It may be time to call in the experts.
Recycling
We never understood why some sinks had two faucets. This person decided to create one stream of water using an empty water bottle. We must say, it's quite genius but doesn't look very appealing.
Homemade Furniture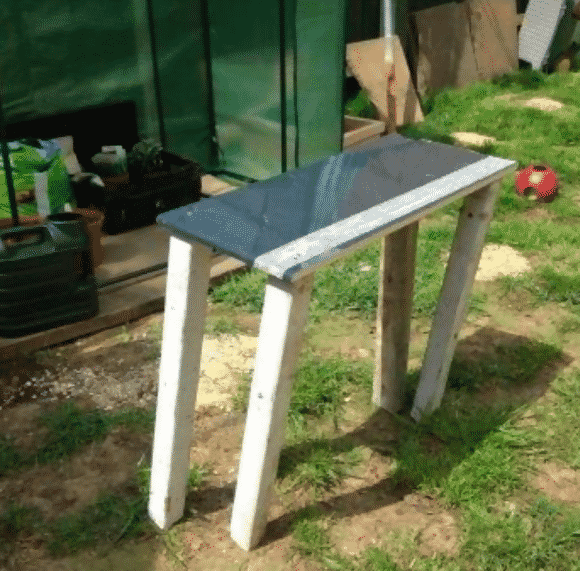 How many times have you heard, "I can build that," and the product comes out looking like this? This husband wanted to build a table for his wife, but it turned out to be pretty small and unstable. Just spend the money and buy the table you actually want!
Projection Problems
When installing a projector, it's important to consider if anything is going to be in front of it disrupting the projection. This person obviously did not take the time to consider that.
Amateur Baker
Well, this person really did try their best to make a floral cake. However, sometimes your best just isn't enough. We're sure it tasted pretty good though.
Ultimate Studio
When you think of a studio apartment, you probably imagine a very small room with things cramped together. However, there is usually a separate room for the bathroom. This person decided that only a curtain was necessary rather than a full room.
The Outlet
Walking upstairs and need a quick charge for your phone? This handy outlet is there when you need it! To be fair, it will make vacuuming the steps easier, but that's about it.
Ceiling Fan
When you're asked to install a ceiling fan but don't know how, this is what happens. While it is a fan on the ceiling, we're thinking this isn't what the person had in mind.
A Step Up
If you really want to be adventurous, put a step in front of your garage. It will definitely wake you up in the morning on your way to work. Your mechanic may not recommend it, but that's a risk you should be willing to take.
The Half Bath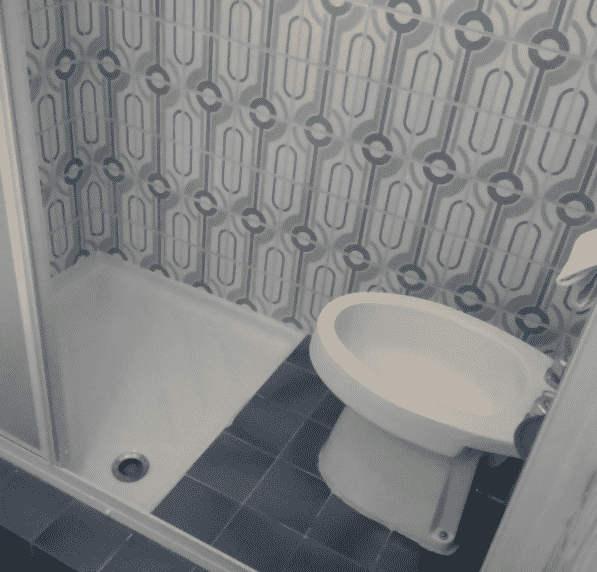 When you only have a small space to work with, you have to get creative. This person took the term "half bath" to a whole new level.
That Looks Great
Some people don't care about aesthetic when it comes to improving a room or house. This person definitely doesn't care what their new AC unit looks like. It even comes with duct tape!
Floating Sink
This is what happens when you run out of money while making home improvements. You have to skip some things that you may want. At least there are some kind of counter tops.
No Walls Allowed
Who needs privacy while using the bathroom? Apparently not the people who live here. They're very open with their personal hygiene methods.
Trash Chute
This takes laziness to a whole new level. Rather than taking the trash outside and putting it in a dumpster, they created a trash chute using old trashcans. While it's genius, it isn't very attractive.
Electrical Issues
Well this is an electrical issue (or fire) just waiting to happen. This person should never be allowed to use electricity ever again.
Droopy Wreath
Decorating your house can be expensive, so many people opt to make their own decorations. This wreath of socks is super cute, in theory. When this person made it, the wreath was droopy and sad.
Pool Slide Fun
This makeshift pool slide is actually pretty genius. However, we wouldn't recommend anyone else put it up. It's just an accident waiting to happen.
Permanent Mistakes
Always make sure your measurements are correct. You may end up with a sign looking like this. It is pretty hilarious, though.
Extra Storage
When living in a small space, you probably wish you had more storage space available. This person decided to make some storage on both sides of their toilet. They definitely didn't think about needing to get into the water tank when they installed this shelf, though.
Improvised Shovel
Don't you hate when it snows and you don't have a shovel handy? This guy got creative and made his own snow plowing contraption to clear his driveway.
Furniture Restoration
Rather than buying new furniture, sometimes you can restore old furniture and make it look new. However, it's essential that you plan out your projects or else you may end up with an upside down chair.
Nightmare Before Christmas
If you ever wanted to add some spookiness to your Christmas decorations, this is the way to do it. The idea in general is adorable, but the execution of it was, well, terrible.
Paw Prints
As a way to remember your pets, making molds of their paw prints is a great idea! However, not every animal likes to have their paw stuck in some type of clay or cement.
Balancing Act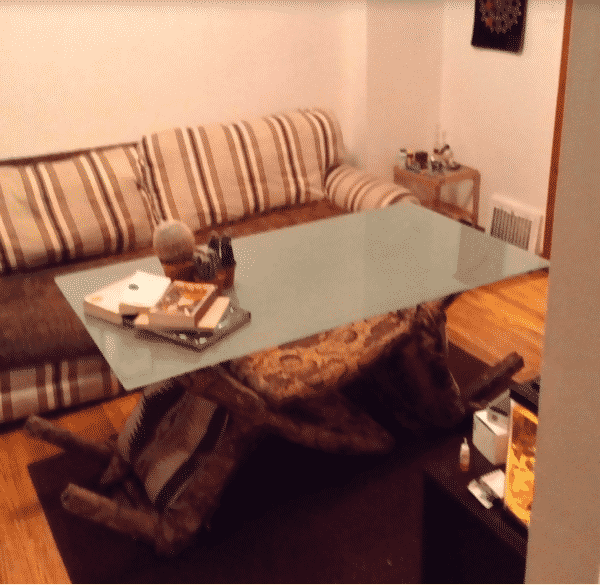 This table is a pure gamble. It looks like it could topple over at any minute, considering it's a piece of glass balanced on top of two overturned chairs. We are just wondering what made the owners thing it was a good idea to put cacti on top of it.
The Switch
This creative genius figured out how to turn on an old TV after the buttons had sunk into the set from being pressed too many times. While it's genius, it doesn't seem to be very safe.
Tire Seat
We can't say this is the most comfortable looking chair in the world, but it does its job. Next time you have some old tires lying around, recycle them into a chair!
Open House
While installing these windows, we can't help but wonder if they were meant to open from the outside. It's a robbery just waiting to happen!
Penny Table
You've probably seen those cool coin tables online. They can be pretty tedious to make, but give a great aesthetic to your room. You'll want to definitely plan this project out, though.
Burning Down the House
One mom tried to make her own crayons but instead started a fire in her microwave. We recommend just driving to the store and buying a pack of Crayola crayons. It seems like that may be the safest route.
Potted Plant Wreath
This wreath would have been absolutely adorable if it had worked out the right way. We aren't sure where this person went wrong, but something definitely isn't right here.
Outer Space Cake
While the first cake looks like it's supposed to represent the galaxy, the second cake looks like it came straight from outer space. It was a good attempt, but we recommend buying it already made next time.
The Hunting Lodge
Looking for ways to decorate your hunting lodge? Here's an idea! While your wife may not love it, you can't go wrong with putting up a deer head.