We've all experienced moments of failure. They may be small moments; they may be really big moments. Either way, our failure does not define us, it's how we handle failure and persevere that does. Other times we can't help but laugh at our own (and other's) failures and have to document them on the Internet.
Worst Parking Job Ever
This airplane had a pretty difficult time landing. We aren't sure how it ended up upside down on the ground, but luckily nobody was too hurt in the process.
Cracked Eggs
We were always told to be careful with eggs because they are fragile. This delivery guy knows just how fragile they can be after letting a whole load of them fall off the back of his truck.
The Library Life
Finals are stressful and you may feel like you live at the library. This girl decided to really get comfortable in her temporary home and take her bra off. She shows absolutely no shame.
False Advertising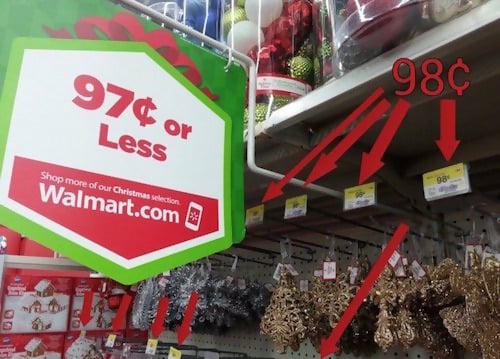 Walmart is just asking for trouble with this sign. It states that the items on that wall are 97 cents or less. However, most of the items are marked 98 cents. You know a customer is going to make a big deal about this at the register.
Evening Attire
Watch your step! This girl got her heel caught in a floor drain and picked it up with her when she went to walk away.
Stability
The correct way to fix this broken telephone pole is to call a repairman. We don't have too much confidence in the wooden stick "holding" it together.
Updating Windows
How many times have you waited hours for your Windows software to update? Well, this unfortunate computer user received a pretty sad status update from his computer. At least he got to take the day off from work.
Need a Jump?
Who really failed here? Was it the guy who left his headlights on or the guy who left a useless note? We'll let you decide.
Off-Brand Fast Food
We can't all afford brand name foods. This fast food joint decided to take advantage of McDonalds and Burger King's reputation and create McBurger. Hopefully it does well.
Real Pants
Someone seriously bought a billboard to get this message across? While we do agree, there are some pants out there that are super comfortable and feel like pajama pants.
The Grade Legend
Now this is just an insult to elementary school kids. Also, why did someone waste time making this chart? It literally means nothing.
Raining Meth
We can only imagine what was being spoken about in this news segment. We just hope that the two anchors broke out into the song "It's Raining Men" at some point during the broadcast.
Closed for the Week
This storeowner left a lengthy explanation as to why he is closing his store for the next week. At least his customers have something to talk about with him when he returns.
Pooped Crisps
Always check your spelling, people! One little letter can change the entire meaning of your message and lose you some sales in the process.
Hide and Seek
Mirrors were a wonderful invention. However, they can be quick to turn on us. Always look out for mirrors in the room while playing hide and seek.
Reserved Seating
This woman obviously has a very long commute if she is taking up three seats while lying down to read a book with her shoes off. But seriously, make some room for the people who are standing.
Definition of Diversity
This university decided to create a task force to ensure that there was diversity in the Greek Life. Unfortunately, they missed the mark on what diversity means because the task force is made up of only white women.
Secure Property
Whoever thought up the security detail for this property deserves to be fired. Who puts a button next to the gaps in a gate?
Free Diabetes
This grocery store is having a huge sale on something really special. Diabetes! Get in line early, kids. You don't want to miss out on this.
No Trespassing
Obviously this property owner has experienced some problems with kids throwing their Frisbees on his property. These poor kids just have to look at their toy sitting there useless.
The Name Says It All
These parents clearly weren't thinking straight when they named their son Kash Register. Hopefully he lives up to more than just his name after being found wrongly convicted of murder.
Wrong Key
This woman clearly doesn't know her own strength. Maybe she can kick the door down with her newly found superpower?
Invisible Tape
Well, you can't get them for false advertising. The tape is there, it's just invisible, exactly like the name says it is.
At the Gym
"Hey, where are you?"
"At the gym!"
"Prove it."
The Perfect Portrait
Always check the background for anything embarrassing before posting a picture. This unfortunate soul drove her golf cart into a lake and is seen trying to get out of it in this portrait.
Rejected
What a way to break someone's heart. This girl used the guy's clever idea to reject going to prom with him. That's just cold hearted.
Permanent Socks
It's time to get some sunshine on those feet! This man now has permanent socks, which is definitely not a good look.
Soggy Bread
Nobody likes soggy bread. Nobody likes the taste of soap, either. Looks like it's time to make another piece of toast.
Convenience Factor
The designer clearly did not think this one through all the way. Who is going to want to put their hands on the end of a plunger to clean their toilet?
Stuck
Sometimes we get so caught up in our work that we don't realize the mistakes we are making. This woman literally stained herself into a corner of the room. We hope she's comfortable for a while.
Contradictory
Many restaurants and bars have banned smoking. While this restaurant clearly doesn't want you to smoke, they have an ashtray there for you just in case you break the rules.
Getting Rid of the Viruses
They say to stay healthy and avoid germs and viruses to wash your hands often. Do the same rules apply to when a computer gets a virus? We're thinking not.
Safety Regulations
While flying is generally pretty safe, things can go wrong. This cracked window was "fixed" with some duct tape. Apparently that passes the safety inspections that happen before takeoff.
Math is Hard
It's no secret that math is hard, but this is just too good not to laugh at. Everyone should be able to subtract 5 from a number. Everyone.
Bunny Slope
Unless this kid is planning on skiing down the slope backwards, something has to change here. Hopefully his instructor points it out for him.
Gullible
Don't believe everything you read on the Internet. This woman is probably kicking herself for believing that her microwave would charge her phone. It's call common sense, people!
The Egg Massacre
A crime took place in this packaging facility. Thousands of eggs were massacred in the middle of the night. Not only do they need to be cleaned up, but we have to figure out what happened.
Earth Day Marathon
Earth Day is a day to respect the earth and try to be more aware of how we can live a more sustainable life. Unfortunately, these marathon runners didn't get the memo as to why we celebrate Earth Day and littered an entire street with their paper cups.
Roman Numerals
We're thinking the person who made this sign may not be graduating with the rest of his class. Clearly, Roman numerals do not replace actual numbers.
The Lazy Eye
Looks like Elsa lost some control of her eye, there. Well, hopefully she can just let it go and move on with being the queen she is.
Pulled Over
This school bus driver clearly knows how to show people who's boss. That doesn't mean that law enforcement is any exception.
Roadwork
When the construction crew can't get out to fix a problem in the street, you have to take it into your own hands sometimes. This good Samaritan tried his best to fix the problem. Sometimes duct tape doesn't fix everything, though.
Extensions
When you just can't wait for your hair to grow, you can get extensions. Although, to make them look real, you should probably follow the directions on how to put them in.
Pitiful Criminal
This bank robber deserves to go to jail just for being so stupid. Why would he ever give the teller he was robbing his name? He will have a long time to think about that in his jail cell.
Mixed Messages
This vacuum promises to never lose its power or suction. Take a closer look at the bottom and you see that it may have just lied to you. Who should you believe?
Out of Business
Would you buy roofing materials from this company if you saw that their roof collapsed? Only if they promised that they don't use their own material.
Caught Red Handed
Yet another criminal is caught in the act. The only proof they needed was the different colored eye shadows on her eyes.
Bakery Fail
Well, they certainly tried. Not everyone can be a Star Wars fan. At least they get to enjoy a slice to cake at the end of the day.
Graphic Design
This graphic designer and editor were most definitely fired after this image was published in a magazine. It's crazy to think that they didn't see their mistake! Talk about an epic fail.