Gone Fishing
They say a picture says a thousand words. Yet, this one can't explain why this man's legs are missing.
Dank Doppelgangers
We have to say, this couple is definitely enjoying their movie (at home) date. A match made in heaven!
A Bit of a Stretch
This photo, at first glance, appears to star a miniature man riding on the back of the woman on the left. It's a bit too convenient to be really just a stripe on the woman's top.
On The Move
Perfect alignment in this photo makes the viewer do a doubletake. He sure is striking a pose!
Head Over Heels
Yeah, this photo gives us a giggle. Even when you spot that it really is a woman bending over in laughter, it is such an awkward angle it is hard to remember which person the legs belong to.
A Casual Read
This woman is just enjoying a magazine on the train. Wait, is she looking at us?
Pregnant Man
Despite modern science, men still rarely are able to carry children. This photo disagrees.
Chicken Legs
Some things are really all about proportion. At closer look, those tiny sticks are not that woman's legs, simply her heels. Thank goodness.
Superwoman
Wow, those are some serious lats and biceps! Oh wait, she's not actually a hulk.
Cut the Umbilical, Mom!
A perfect alignment here shows a beautiful metaphor of mother and child. It's like she never left the womb.
Girl Power
Once again, this average-sized woman appears to have a more-than-average muscle mass in her arm. Oh, wait no, she doesn't. But it almost got us again!
Legs For Days
Swimsuit season is definitely the time when a little extra leg comes in handy. Luckily for this girl, she has three legs and more joints than your average teenage girl.
Wide Angle
While we support body image positivity, we are questioning this woman's proportions. She would need a giraffe neck to make that stretch.
Three Times A Charm
Does that apply to legs, too? If so, this girl is one lucky person!
Tree Trunks
With all due respect for this clever man and his posing of a tree trunk as a lower body, we seriously doubt he came across that perfectly shaped in the woods. Still, even if so, what was going through his mind when he decided to have a friend take this photo?
Horribly Hairy
Body hair is a double-edged sword. For men, it's a sign of masculinity. For most women, it is better non-existant. From this angle, it appears this woman disagrees: the more the merrier!
A Wet Dream
Again, some things are about perspective. This person clearly is oblivious of what his supposed students are seeing as he stands at the podeum. We find it convenient, though, that they are actually talking about dreams.
Bench Seat
Who knew a convertible would have enough space for 5 or even 6? Oh wait, is that a head? Enjoy.
Hold On Tight
This one is deserving of a doubletake. It's one thing to take the classic tourist photo of the leaning tower of Pizza, quite another to have a man pose similarly in a faux attempt of holding up your own body and somehow matching the proportion. We can't quite grasp how she is so much closer in the foreground than the man behind her.
Nice Hair-Do(n't)
This photo speaks for itself. Enjoy it.
Twinning
Oh boy, this one is too good to be true. We love the look on the man's face who has the body of a woman.
Dressed To Impress
This shirtless man clearly is oblivious that it appears from behind, at the right moment, that he is a blushing bride in a ballgown wedding dress. Adorable.
Sun's Out Buns Out
While we cannot confirm that this girl's buns aren't out, they certainly are not show in the photo. Again, this is worth a doubletake.
Confused Cuddle
This is a bit of a puzzle. See if you can figure out what body part belongs to who.
A Hard Chair
We'll just leave this one here.
Bold Butt
This lady either has some seriously disproportionate lower body parts or is part zebra. Oh wait, no, she's just sitting on a zebra statue. Tricky.
Phoney Bologna
This man is so dedicated to his work that he wears a large bologna on his head. That, or the alignment is perfect so that it seems the man is a walking bologna.
In The Shadows
For a tourist sight, we have to question the design of the bridge here. Did no one think this through? For the sake of the children, change the railing window shape!
This Girl Is On Fire
Alicia Keys is known to visit her fans in spirit at campfires when she hears her songs playing. That, or this is just crazy good timing as this person admired their bonfire.
Abusive Arm
This man is really reaching for it, if you pick up our drift.
Hairy Heritage
Seriously, whoever was taking this family photo should've spoken up. How are those young people supposed to find spouses when they think everyone in their family has crazy thick arm hair?
Fudge Fingers
We hope this man doesn't accidentally take a bite out of his own fingers thinking it is his Twix bar. Much less, his friends.
Who's Who?
Honestly, we get confused every time we look at this. So many limbs, too many faces, and even when it seems like we figure it out, the position of the guy riding piggyback is too awkward to reconcile with the rest of the picture.
Deconstructed Dad
We can't seem to deconstruct dad's body in thsi pictrue. What the heck?
Kinesthetic
Some people prefer to learn in a hands-on way. This picture is a prime example. Or, it's just an example of really poor positioning.
Hairy Moments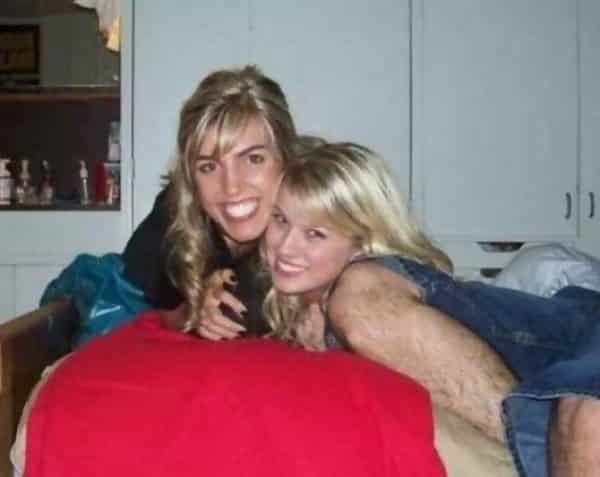 What is going on in this photo? With two attractive female faces, the last thing you expect to see is a large, hairy arm. We're htinking hard to decode this shot.
And The Winner Is…
Still undecided, due to such a confusing picture of the winner and two friends. Seriously, we don't know who won.
Balding Baller
This head somehow doesn't look like it belongs to a young, athletic basketball player. Classically hilarious.
Double Dog Dare
At first glance, we figured this was like a two-headed snake type genetic rarity in dog form. Alas, no. It is simply two adorable Yorkies in an inconveniently layered position.
Mirror, Mirror On The Wall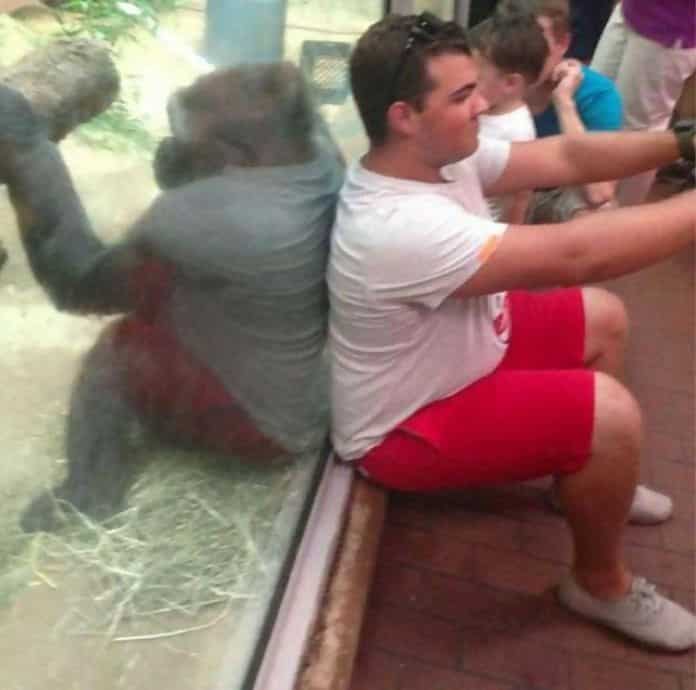 Who is the fairest of them all? The monkey has our vote.
Improper Fraction
If you remember the meaning of 'improper fraction' from math, you'll understand what we mean. Math puns are the best.
Grumpy Cat
Of all the funny position pictures out there, this is probably the most adorable. Awww.
Who are You Lookin At?
This shoeless patient looks a lot like Putin, doesn't he?
Luscious Legs
Somehow, the contrast between gender body parts makes for the funniest pictures. This man is clearly enjoying his silky, smooth legs.
Twisted
Oh, how much fun we all used to have with the game of Twister. This picture shoes just how fun it can be. We forget which body parts are ours!
Spider Lady
This woman seems to be going to extreme lengths to cross a fence no higher than her thigh. We're not sure what's going on here.
Tasty Nestle
Seriously, how tasty can trash be? Nestle really needs to work on its ad placement in Russia, apparently.
Out For A Drive
We know that all dogs love a good ride in the car. Clearly, the owner of this Golden Retriever hadn't been out recently enough so he took matters into his own hands. At least it's absolutely adorable.
A True Star
This man should be given free Starbucks for a year. No, free Starbucks for the rest of his life. Just look at his face.
Sassy Soup
Again, the facial expression of the subject here makes this photo complete. Look at the sass.
Holding Heads
This looks quite gory. Seriously, even though we get that this body isn't headless, the strained expression isn't the most comfortable thing to look at.
Parallel Playground
Parallel reality, apparently it's a real thing. Proof is here, in this playground slide.
The Princess and the Frog
This close-up of the frog makes us remember why amphibians are so creepy. Boy, this is one handsome prince!
Hug It Out
Although I'm sure this embrace was full of love and warm fur, this dog's face is less than elated.
Palms
This girl seems very excited about having palms sprouting from her head. A ray of sunsh-palms!
Man or Mannequin
Bald heads seem to blend in better than haired heads. Even the man's outfit fits in here.
Captain Choo Choo
Clearly, this man has had a rough day. He feels his head might burst. Wait, it seems it already has…
Explosive Flatlence
The sassy angle of the cow's back legs and hips make this absolutely hilarious. No wonder methane is such a risk to the environment!