We all had a class clown cracking jokes and making students laugh while attending school. These students pulled off some of the riskiest pranks that could have landed them in a lot of trouble. Luckily, they were so funny that everyone was too busy laughing to give them detention.
The Math Test
Not many students enjoy taking a math class. However, this student decided he had to share his feelings about taking math exams with his professor. So, he posted this letter to the door of his office.
The Risky Answer
When it comes to open-ended test questions, there is a lot of interpretation involved. This student simply wrote "no" as his answer when asked to provide an example of a risk. In writing "no," he took a risk with his answer.
Hide and Seek
As a senior prank, some students decided to sneak into the school at night and play hide and seek. They were so good at the game that the police couldn't even find them!
Art Class
For an art project, one student drew a sketch that looked like a stamp and to prove that he did a great job, he mailed it to himself. It was delivered and he got an A+ on his project.
Who You Actually Get Your Degree From
When you graduate, they don't hand you the degree or diploma right then and there. You have to wait for it in the mail. This graduate decided to get cheeky with his graduation photos.
Passing Notes
This is a terribly sad dad joke, but it works. The student to wrote this probably thought about it the entire time he was sitting in his lecture.
The Threat
One student jokingly threatened his teacher that if he failed her test that a dinosaur would crush her car. Well, it looks like he failed his test and then left a little dinosaur on her car. At least he kind of went through with the threat.
Interior Locker Design
Most students use their lockers to store their books and such while at school. This person took their locker to a whole new level when they created a little room and a tea party for two dinosaurs.
The Graphic Designer
The Class of 2015 was able to get some pretty epic senior shirts. This graphic designer knew exactly what he was doing when he created these shirts.
No Tapping
Whoever wrote this note saw that the wire in the window actually made it look like these kids were in a cage. So, to mess with everyone they left this note asking people not to tap on the glass and scare the engineering students inside.
Joking Around
When it comes to learning one of the STEM majors, it can get pretty boring and intense. This student decided to add some laughs and life into his chemistry lesson by creating a whole new chemical compound.
Uniting the Pineapple Shirts
As a joke, a bunch of guys all wore the same pineapple button down shirt on picture day. It also helps that they all kind of look the same. Now that's an epic yearbook.
Student Loans
Graduation should be a time of joy and excitement. Instead, it holds the terror of the impending doom of monthly student loan payments coming.
The Experiment
What would you do if you saw a Cheeto just hanging from a string midair? You would probably look up and see where it's coming from. Hopefully this girl noticed eventually and made these students' day.
Dorm Room Fun
These college students decided to add some fun to their dorm. So, they put chairs and tables in the hallway and told their neighbors that the floor turned into lava. It's a major throwback to childhood!
They Can't Help It
Dr. Hedgeh has been getting harassed nonstop by his students. They keep calling him Dr. Hedgehog! It's hilarious and to be honest, pretty harmless.
Messing Up Your Week
We all have those weeks where we don't know which day it is. This student decided to wear this shirt on a Thursday and confused many people that week.
Sacrifice Here
People now have two options when it comes to baby changing tables. They can change their baby or they can sacrifice them, whichever they feel is appropriate that day. Although, we are wondering why there is a baby changing station in a school.
The Cheat Sheet
This genius student took having a notecard as a cheat sheet to a whole new level. They wrote in red and blue crayon so he could fit double the information on the card.
Let's Play a Game
This student got creative when he took a test and made a little game for his teacher to play. After connecting the dots, it looks like the teacher graded him 100%. Pretty clever!
Math Art
You can do quite a lot with graphing calculators. This student learned how create a portrait of his math teacher. To be fair, he should have been paying attention, but math is boring so we understand.
She's Got Jokes
It's always a good quality to be able to make fun of yourself. This girl made the ultimate joke when she graduated from college.
So Many Bills
When this campus made it clear that students couldn't post bills on this pole, the students decided to get creative with it. So, they posted pictures of every famous Bill they could think of.
Nothing to Steal Here
This poor student had his car broken into three times already. To save thieves the trouble, they made a list of what was in the car. Obviously it doesn't contain anything spectacular that someone would want to steal.
Slurring Your Words
The last answer is everything! We sure do hope that this teacher at least gave this student half credit for this hilarious answer.
Unfortunate Name
To see if his school actually pays attention and is detail oriented, this kid changed his name to Jaffar FromAladdin. No, it's not a real name. And yes, his school does not pay attention.
Clever Resume Writing
One teacher assigned her class to pick a Marvel character and write their resume. This genius student chose Groot and stayed true to his character.
The Poet
When a teacher asked for a 16-line poem, this student decided to get creative with it. When it comes to poetry though, everything and anything goes. He could argue this to no end.
College Newspaper Editor
The editor of this college newspaper would always add in little hidden notes to himself. He did it all throughout college and hardly anyone noticed unless he told them about it.
Preacher Bingo
If you wen to college, chances are you probably ran into a preacher on campus. This person decided to make a game out of the preacher's sermons and play bingo. We can only imagine what he won at the end.
Study Harder
Some people have it easy in life when it comes to their looks. However, then there are the rest of us who actually have to do something and make some money. This girl knows what's going on.
Paper Cut Finder
Curious as to how many cuts you have on your hand? Just rub them down with some hand sanitizer and they'll show right up!
The Invitation
This is more than just your average pencil case. There are some pretty intense parties that take place in here at night.
Teachers Have It Hard Too
If you thought being a student was hard, imagine being a teacher in control of all those students. We should give them a lot more credit than we do.
Leaving Their Mark
People always want to leave their mark when they graduate. The class of 2017 knew exactly how to do that without vandalizing the school or anything. It's pretty clever!
New Style Item
These prom-goers were ready for a wild night. The girl in the middle is holding a giant flask instead of a clutch purse. We wonder if any of the chaperones even noticed.
Crying Students
There have been many times that students have cried out of frustration. This student isn't afraid to admit it either.
A Different Interpretation
You can see just how hard this student tried to get the answer to this question from the erased writing. However, we appreciate his final answer.
Bang the Gong
One funny student decided to give a "rating" to the gong in the music room. While students should be taught to never objectify people, this is pretty funny.
Always Prepared
This student is always prepared for when hunger strikes during the school day. Rather than carrying around a backpack, he's got a snack pack!
Creative Writing Class
When it came to writing a short story, this student did it in just one sentence. There could be a lot to unpack here, but we just hope he got a passing grade.
Notoriously Late
This school allows their students to decorate their parking spots. This girl is known for being late to school, so she put this on her parking spot.
How Much Debt?
If you think about just how many people take out student loans, that is a ton of debt! When all of those students are in one room, the amount of debt is so immense that it's terrifying.
Ultimate Senior Prank
This may just be the best senior prank to date. It was so real that someone actually called the cops when they saw it.
Cover Letter
When students were taught how to write a cover letter and given an assignment to "apply" to a job they saw, this is what one student turned in. He was applying to be a water boy for the Dallas Cowboys.
Senior Portraits
You can never separate a boy from his dog. This boy loved his dog so much that he wanted to incorporate him into his senior photos.
It Just Doesn't Seem Fair
For as much as it costs to go to college, you would think that it would be a little more luxurious. This student called out their university for skimping out on the toilet paper.
Going Green
This senior prank is harmless, but oh so funny. They decided to plant a tree in the middle of their school's baseball field. Now whoever takes it out is going to look like a terrible person because we can use as many trees as we can get.
Grizzly Bear Attacks
We aren't sure what prompted this counting, but hopefully it wasn't an actual grizzly bear attack. We're just happy that it's been so long since they started counting.
Peek-A-Boo
This student wanted to make sure his fellow classmates were awake by pasting a picture of Mama June from Here Comes Honey Boo Boo on the window of the classroom door. We would definitely be frightened if we saw that.
Something Isn't Right Here
Now, which one doesn't belong here? We're going to say it's the guy dressed in chainmail.
Compelling Title
When told to make the title of his thesis compelling, he did not disappoint. We sure hope people are inclined to read it.
Recycling at its Finest
We've always been told to recycle our plastics. This class decided to save their water bottles and build a fort around their teacher's desk.
The Rick Roll
If you've ever been Rick Rolled, you know just how annoying it can be. This student decided to hand in his essay with the lyrics to the song.
The Real World
For a while there, people didn't have to worry about getting a job in the real world because jobs were almost impossible to get. You can decide which one is more terrifying.
Sports Fanatics
These kids are starting their dream careers young. They pretend to be sportscasters at their school's sporting games. You can tell that they're dreaming big.
The Grammar Stickler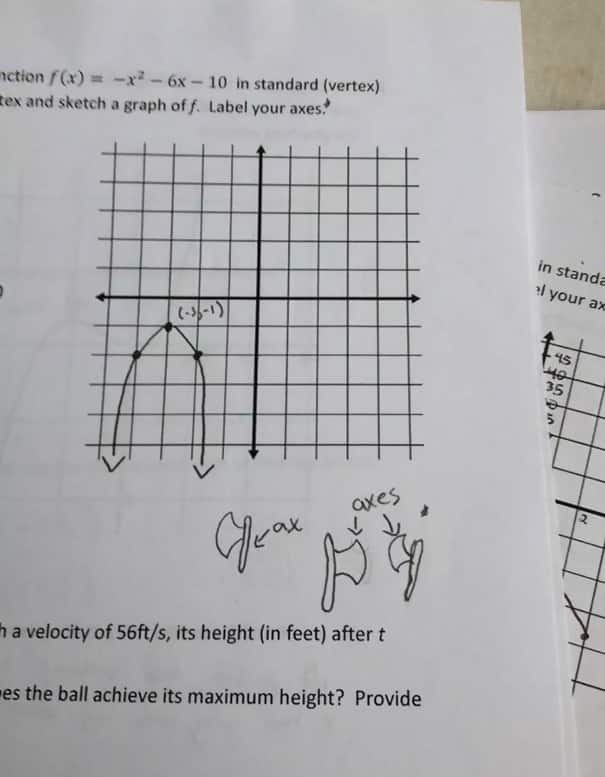 This student had a different interpretation for this question. He decided to draw some axes and actually label them. He isn't wrong.
Going with the Flow
While asking for information from different colleges, this student decided to give a fake name. People don't seem to question things anymore.
Torture
This roommate decided to hide the flash drive with her roommate's thesis on it in one of these balloons. Now she has to pop all of them and see which on it's in. This is going to be loud.
Staying Awake
It's hard to stay awake in a boring class. So, this student decided to keep himself busy by writing a list of the worst things about the class he was sitting in. It seemed to work.

[mashshare]