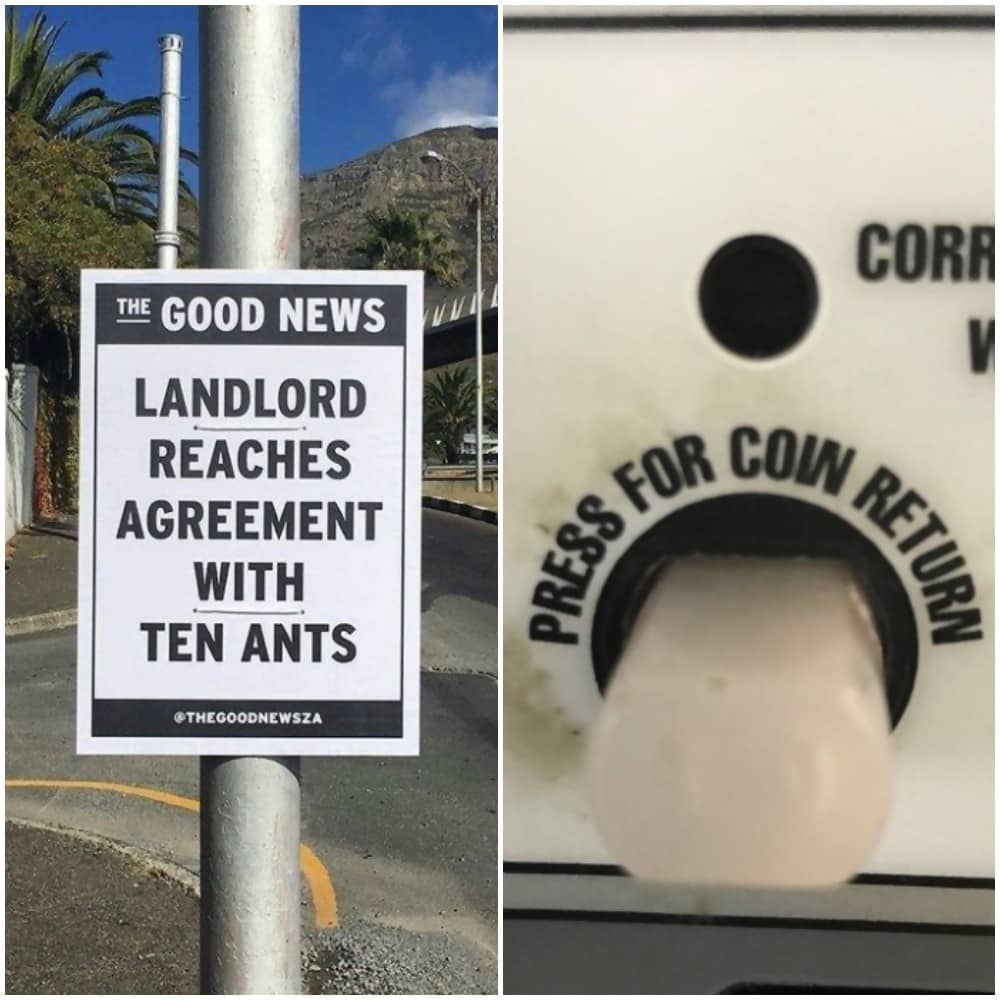 There is a reason why you were told to proofread things in school before handing them in. When you make a spelling or grammar mistake, it can ruin your whole sentence and mess up the message you're trying to send. These people learned the hard way that letter spacing can completely change the meaning of a sentence.
Don Was Hungry
Are you missing your glasses? It may be because Don ate them the other day at this optical store.
It's a Bug's Life
Did you hear the news? A local landlord finally came to an agreement with the ten ants that were occupying his kitchen. They have agreed to leave and never return.
Words of Wisdom
How long did it take you to read this shirt and fully understand what it was saying? There is a reason people put space between two different words.
The Judge
This dog toy made up two new words for our vocabulary – "jud" and "ging." But, when you put them together you get "judging," which is exactly what this dog is going to be doing to you the next time you order a whole pizza to yourself on a Friday night.
Life Is…
Yes, life is beautiful. But you know what is even more beautiful? Having the correct spacing when it comes to writing nice messages on posters.
Meat
Maybe this wasn't the best phrase to put on a clock. It now looks like this should belong in a steakhouse or BBQ joint. Vegetarians and vegans, beware!
Which One?
Is it "cow" or "coin?" We're going to assume it's saying "coin" for all intents and purposes. However, we would be pretty impressed if a cow came out of this thing.
Sleep When You Redead
Coffee lovers everywhere rejoice! You don't have to worry about drinking too much coffee anymore. According to this sign, you can sleep when you redead. Whatever that means?
First Celebration
It's always fun to celebrate milestones and events. However, it's always a good thing to know what exactly you're celebrating. This pretty and glittery sign is clearly celebrating the first something, but we can't figure it out.
Figs for Everyone
This tough girl better rethink wearing this hat. While it's supposed to say "fighter" it looks like it says "fig hater." What did figs ever do to you?
Be Have
This designer clearly didn't behave when making this hat. With that space between "be" and "have," it makes absolutely no sense! English is a very delicate language, people!
Elite Men Swear
Branding is everything when it comes to owning your own business. Unfortunately, this business owner has to deal with this awkward spacing in his storefront sign.
It's Okay
Have you ever had a sock that didn't fit quite right? It was just a little too big or a little too small, but not enough to do anything about it. Well, you could say that it Fits OK.
Justice for Ice Cream
Ice cream gets a bad rap with it being so sugary and unhealthy for you. This ice cream shop is ready to stand up to the haters and get justice for the cold, delicious snack.
Ana's in the Tropics
If your name is Ana, you'll really appreciate this towel. If you're a tourist looking to buy something that says "Tropicana," you have come to the wrong place.
That Formatting Though
This Mean Girls quote is so famous and recognizable you may not even notice what's wrong with this formatting. Well, let's start with that apostrophe. What is going on there? Secondly, what does "withus" mean?
Soccer Champions
We get it, it's hard to format text onto a round surface. However, you could have done a better job than this! "Champion" looks like three different words.
How to Be Annoying
Designers everywhere are screaming right now. Funny how this would annoy them, but some designers still make mistakes like this on posters and clothing. Ironic, isn't it?
Multi-Use Bowls
Bowls can be pretty versatile and used for many things. Unfortunately, this packaging didn't clearly get this message across. What is "mul ti-fu nc tion?" It looks like a foreign language.
Motivational Language
This is a pretty motivational quote, if you can figure out how to read it correctly. It isn't that hard to space words and letters out correctly. Come on!
Just Hanging There
How ironic is it that the "C" is literally just hanging there in the word "cliff hanger?" With just a few inches to the right, this sign would have been perfect. People with OCD are going absolutely crazy right about now.
Just Stop
We get trying to be trendy and new with a design, but sometimes it just doesn't work. A word of advice to designers, never break up a word in the middle. Never!
In Memory Of…
During Memorial or Veterans Day, we see a lot of signs remembering those who have served in the armed forces. However, this restaurant decided to remember another kind of soldier. The soldiers who serve hot breakfast every morning.