Who's The Actor?
When it comes to action movies where stunts are essential, sometimes professional stunt doubles are hired so the actors do not hurt themselves. These stunt doubles look so similar to the actors, but are more capable of doing flips, jumps, etc. Sometimes, an actor will even have multiple stunt doubles! Can you tell the difference between these actors and their doubles?
Margot Robbie and Ingrid Kleinig
Ingrid Kleinig doubled as Margot Robbie in Suicide Squad as Harley Quinn. She is extremely talented and can even hold her breath for a total of five minutes under water!
Dwayne "The Rock" Johnson and Tanoai Reed
The resemblance between The Rock and his stunt double, Tanoai Reed, is strong. In fact, they are actually cousins! They have worked together for 16 years now on films and Reed being his stunt double. It's nice when you can work with family.
Chandler Riggs
When a child actor like Chandler Riggs needs a stunt double, who do they use? Well, a 33-year-old woman doubled as Riggs in The Walking Dead. She was the about the same size and Riggs and was able to perform stunts that would otherwise put the child at risk for injury.
Chris Hemsworth and Bobby Holland Hanton
These two could actually be brothers. Chris Hemsworth's stunt double, Bobby Holland Hanton is no stranger to injuring himself while doing stunts. He has popped ribs, snapped his groin, and blew out his shoulder while filming.
Bruce Willis and Stuart Wilson
Stuart Wilson doubled as Bruce Willis in Die Hard. Not only is he a stunt double, but he also choreographed some of the stunts and fight scenes.
Gal Gadot and Alicia Vela-Bailey
A little known fact about Gal Gadot is that she was pregnant while filming Wonder Woman, so it was essential to have her stunt double, Alicia Vela-Bailey, on set at all times. Alicia has been in many movies doing crazy stunts.
Penelope Cruz
Penelope Cruz was working on Zoolander 2 when her stunt double was actually a man with a beard dressed in drag for one of the motorcycle scenes. Isn't that crazy?
Emilia Clarke and Rosie Mac
Emilia Clarke, also known as the Mother of Dragons in Game of Thrones, had a body double for some of her scenes in the show. Her body double was named Rosie Mac, who had almost the exact same measurements as Emilia.
Uma Thurman and Zoe Bell
Uma Thurman's most famous role is probably Kill Bill Vol. 1 by Quentin Tarantino. Since it was such a great action movie, she needed a stunt double to perform some of her scenes. Her double was Zoe Bell, a woman who you do not want to meet in a dark alley.
Lucy Lawless and Zoe Bell
Lucy Lawless needed Zoe Bell as her stunt double when she was filming the Xena series. Zoe Bell really is a warrior princess that isn't afraid to kick some butt.
Jennifer Garner and Shauna Duggins
Not only is Shauna Duggins a stunt double for Jennifer Garner, but the two are close friends. They have worked together on 13 Going on 30, Daredevil, Arther, and Elektra. Shauna is considered to be a pioneer when it comes to women in the stunt double profession.
Megan Fox and Stacey Carino
Stuntwoman Stacey Carino has doubled for Megan Fox multiple times. She is no stranger to injury, though. She once broke her neck and didn't even realize it while performing a stunt!
Natalie Portman and Sarah Lane
In the ballet movie Black Swan, Natalie Portman needed the help of stuntwoman and ballerina Sarah Lane. While Natalie took ballet classes to prepare for the role, they needed a professional to actually perform the dances.
Ryan Reynolds and Alex Kyshkovych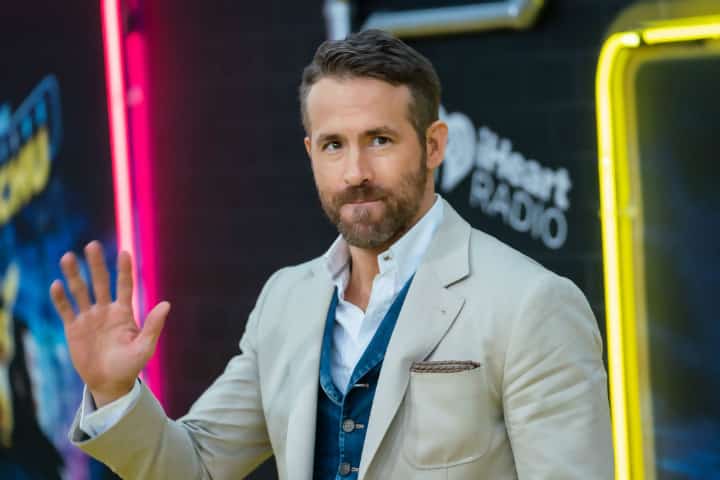 Ryan Reynolds had Russian stunt double, Alex Kyshkovych, for both Deadpool movies. While the two don't look too much alike, it didn't matter because Deadpool wears a full body suit with a mask.
Zoe Saldana and Chloé Bruce
In Guardians of the Galaxy, Zoe Saldana's body double was Chloé Bruce. Chloé is a professional in the martial arts and isn't afraid to take on even the most dangerous stunts for films.
Arnold Schwarzenegger and Peter Kent
It's hard to believe that Arnold Schwarzenegger would need a stunt double, but he can't do everything! So, Peter Kent took on the role for films such as Air America, Terminator, Kindergarten Cop, Jingle All the Way, and True Lies.
Karen Gillan
Karen Gillan had two stunt doubles for Jumanji: Welcome to the Jungle. While they have different coloring, they do look similar to each other.
Harrison Ford and Vic Armstrong
Harrison Ford's stunt double for all of the Indiana Jones movies was Vic Armstrong. Not only did he perform stunts, but he also choreographed and arranged them.
Ian McKellen
There were multiple stunt doubles for Ian McKellan while filming the Lord of the Rings series. All of these stunt doubles were different heights, though. So, it was a little difficult to keep them looking similar as hobbits.
Dave Bautista
It's hard to believe that professional wrestler Dave Bautista would need a stunt double. However, for Guardians of the Galaxy, he had a stunt double that looked almost exactly like him.
Brad Pitt and Phil Ball
Brad Pitt's stunt double for World War Z was Phil Ball. To double as Pitt, Ball had to shave his hands and wear hair extensions while filming.
Henry Cavill and Adrian McGaw
Henry Cavill's stunt double for Mission Impossible: Fallout was Adrian McGaw. McGaw has been in many movies doubling for various well-known actors.
Ronda Rousey and Caitlin Dechelle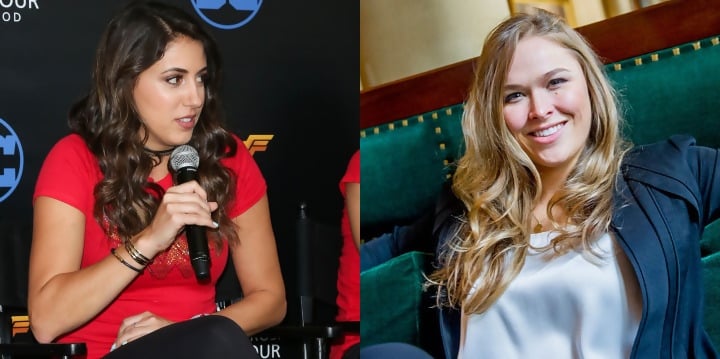 Even professional fighter Ronda Rousey needs Caitlin Dechelle as a stunt double. You definitely don't want to mess with these two women. They are not afraid to hurt you.
Jennifer Lopez
Jennifer Lopez needed to have a stunt double for Follow the Leader. However, her stunt double was a man! While their body types were similar, their faces are completely different.
Angelina Jolie and Janene Carleton
When it came to filming Salt, Angelina Jolie had Janene Carleton as her stunt double. Janene even had to lose some weight for the role to look more like the slender Angelina Jolie.
Michael J. Fox and Charlie Croughwell
When it came to performing stuns for Back to the Future, Michael J. Fox had Charlie Croughwell to keep him safe from injury. After working together on the movie, they became friends and later went on to work together in other films.
Chris Pratt and Tony McFarr
Chris Pratt's stunt double for Jurassic World: Fallen Kingdom was the talented Tony McFarr. McFarr got his start as a stunt double in 2011 on Bones. Later, he moved up to higher budget films.
Scarlett Johansson and Heidi Moneymaker
When it came to filming the Avengers movies, Scarlett Johansson had Heidi Moneymaker to perform the more complicated stunts. Moneymaker has been in over 74 movies as a stunt double, so you can say that she is pretty experienced.
Johnny Deep
It's dangerous being a pirate, so Johnny Depp had to have a few stunt doubles when it came to filming Pirates of the Caribbean. Even though Depp had stunt doubles, he still managed to injure his back while filming one of his scenes. It left him with a limp for weeks.
Olivia Munn and Julia Rekaikyna
Olivia Munn claimed to do all of her own stunts in X-Men. However, her stunt double Julia Rekaikyna was quick to deny that when this photo was released from set.