Cities around the globe are adorned with sculptures and works of art. Pieces that captivate us and start our imaginations. That capture our emotions and express a message.
There are hundreds works of art in virtually every city and thousands round the world but some really do stand out above the rest. Here are some of the most delightful sculptures we've ever seen as well as the most astounding pieces of artwork. Take a look at these incredible works of art around the world.
1. Mustangs by Robert Glen. Los Colinas, Texas, USA.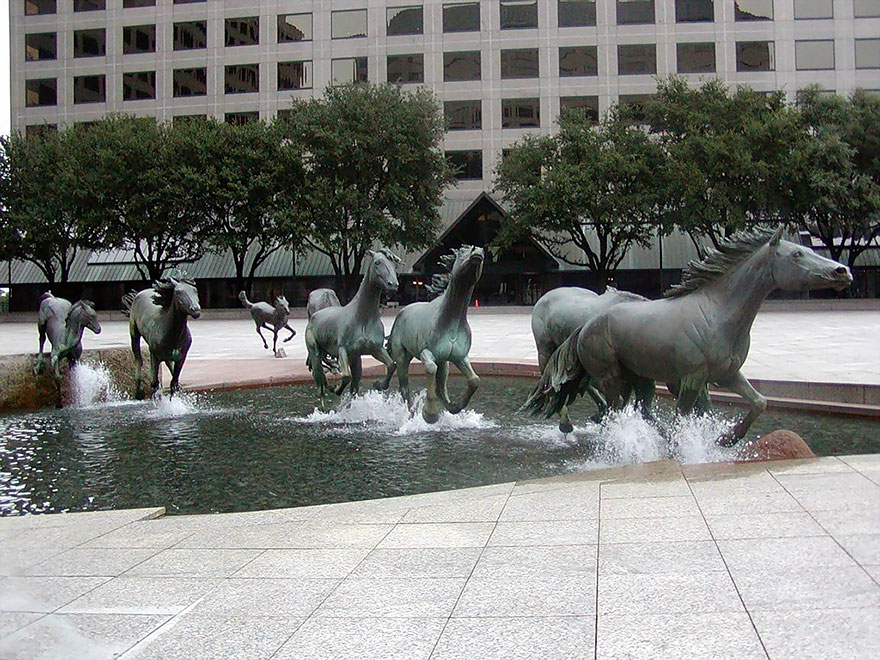 2. Expansion by Paige Bradley, New York, USA.
3. The Monument of an Anonymous Passerby, Wroclaw, Poland.
4. Salmon Sculpture, Portland Oregon, USA.
5. People of the River by Chong Fah Cheong, Singapore.
6. The Shoes on the Danube Bank by Can Togay and Guyla Pauer, Budapest, Hungary.
7. The Knotted Gun, Turtle Bay, New York, USA.
8. Break Through From Your Mold by Zenos Frudakis, Philadelphia, Pennsylvania, USA.
9. Black Ghost, Klaipeda, Lithuania.
10. Les Voyageurs, Marseilles, France.
11. Nelson Mandela, South Africa.
12. De Vaartkapoen, Brussels, Belgium.
13. Cattle Drive, Dallas Texas, USA.
14. Spider, Tate Modern, London, UK.
15. Hippo Sculptures, Taipei , Taiwan.
16. Sinking Building Outside State Library, Melbourne, Australia.
17. Iguana Park, Amsterdam, The Netherlands.
18. Man At Work, Bratislava, Slovakia.
19. Mihai Eminescu, Onesti, Romania.
20. A Scene From The World War With Life Size Statues, Eceabat, Turkey.
21. Man Hanging Out, Prague, Czech Republic.
22. Kelpies, Grangemouth, UK.
23. Rundle Mall Pigs, Adelaide, Australia.
24. The Unknown Official, Reykjavik, Iceland.
25. The Shark, Oxford, UK.
[mashshare]