Choosing the right theme for your living room can be very overwhelming when you don't have much interior design experience. There are so many different themes, furniture styles and colors to choose from and it can feel like it is easy to make the wrong decision. Before you start decorating or buying furniture for any room, it is important that you take some time to plan out what you are going to do. A great way to do this is to choose a theme like a specific color scheme or a modern theme. If you are still feeling overwhelmed, take some time to read our advice on choosing a theme and get some inspiration to make your home look great.
How To Choose A Theme
Once you've had a look at all of the themes, it is important to know that not all themes are right for every home. You need to consider the structure of your house, what sort of materials you are working with and the themes of your other rooms. Your home doesn't need to follow the same theme throughout, but it is important that the rooms come together somehow.
Art Deco Theme
Art deco furniture originally comes from France in the 1920s. This bold and glamorous theme gives off a great vibe in your home and will impress all of your guests. If you are a fan of the style that comes from the 20s, you'll love how you can turn your living room into somewhere that you'd find Jay Gatsby. You can follow this theme by purchasing an art deco chair which will look great with some gold or black walls. You could also invest in some satin wood side tables and a walnut sideboard to get the full desired effect. You'll love sitting in your art deco chair as you entertain guests with cocktails in your brand new themed living room.
Country Theme
Another great theme that will inspire you to get decorating is the country theme. Everyone loves going into a cost room with a roaring log fire and some soft furnishings. If you are going to go with this theme, add some patterned rugs and throws for your sofa to encapsulate the country feel at home. Any sort of wooden furniture will look great with this theme and you can pair them with a nice soft cream or brown sofa. If you prefer a comfortable, family-friendly living room, the country theme is the one for you. Make sure to add some extra details like baskets or bookshelves to store your things to get the full country feel.
Mid Century Theme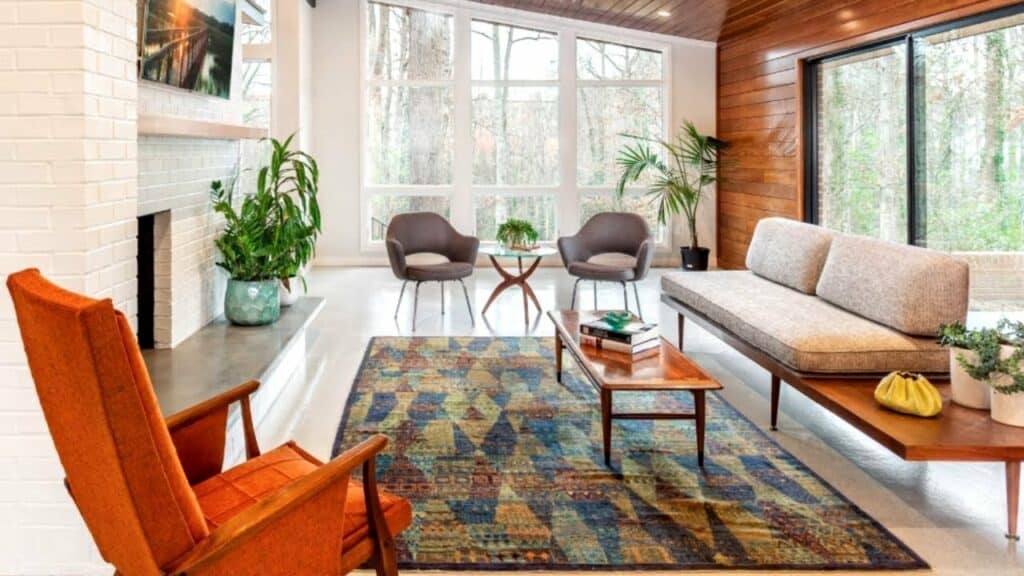 Mid Century furniture is very popular right now with interior designers. These vintage pieces look great in almost any home and so it this is a theme that you should consider. Although some of these pieces are slightly more expensive because of their vintage status, you won't regret investing in them to make your room look amazing. Get yourself some nice Mid Century sideboards or chairs and your room will impress all of your guests. You can't go wrong with a Mid Century theme so make sure to have a look at some of the pieces on offer!
Minimalism Theme
If you feel like you want your living room to be modern and clean cut, you'll love the minimalism theme! When following this design, you'll need to pick some important signature pieces that fit in with your theme as you can't have a huge amount of clutter. The color scheme is also important in this theme as it is often best to choose monochrome colors like black, white or grey. Any sort of patterns might add too much and distract from the theme itself. Add a glass coffee table and some minimalist wall art to execute this theme really well.
Our Final Verdict
Make sure to choose a theme that is right for your living room. There is a lot of inspiration online when it comes to decorating your living room, so you'll be spoilt for choice. If you choose a theme, make sure to follow through with it carefully and plan out what you are going to do. It is important not to start with one theme and then change your mind halfway through as it might not have the same overall effect.

Our favorite theme that we have explored has to be the country theme. Family homes can have a lot of clutter and so the minimalist theme can be very hard to maintain. We love the idea of sitting on our comfortable sofa with a blanket sitting in front of the log fire in the winter. Take a look now at all of your options and get started on creating your dream home!

[mashshare]